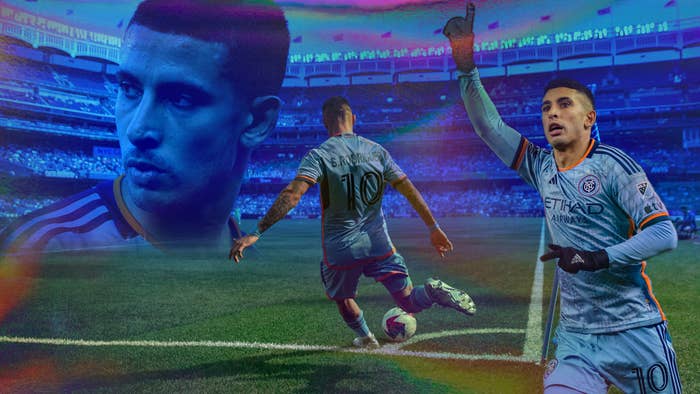 Santiago 'Santi' Rodríguez, the charismatic midfielder of New York City Football Club, is making waves in Major League Soccer.
With an electrifying playing style and a heart full of passion, the 23-year-old soccer player began gaining traction in Uruguay, where he honed his abilities and showcased his potential. His remarkable skills and on-field presence didn't go unnoticed, leading to his signing with NYCFC. From winning the MLS Cup in 2021 to occupying the Designated Player spot on the roster, Santi is showcasing his determination to excel on the U.S. stage.
Off the field, the Uruguayan is embracing the vibrant essence of New York City and adapting to its diverse culture. Rodríguez's engagement with the soccer community extends to other international fan clubs in NYC, where he connects with fellow Uruguayan enthusiasts. His participation in cultural activities such as South American-style asados (barbecues) showcases his effort to remain connected to his roots while embracing his new environment.
His ability to seamlessly blend his Latino heritage with his love of the game adds an extra layer of depth to his playing style, making him not only a potent asset but also an inspiring symbol of unity within the diverse soccer community who cheer "Dale New York!" every time he and his teammates touch the field.
Complex recently caught up with Rodríguez to talk about his journey with NYCFC, his cherished Uruguayan heritage, and his unique experience of not being a New Yorker by birth but embodying the spirit of La Gran Manzana (The Big Apple).
(The interview was originally conducted in Spanish and has been edited in length for clarity.)
You've had a long journey here, but you first joined NYCFC on loan as part of the team's push to win the MLS Cup in '21. What were your first impressions of the club?
When I first arrived, everything was totally new for me. It even surprised me a little bit, honestly. Luckily, everyone in the club treated me really well since I arrived. I made a lot of friends, and as of today, I still remain friends and keep in touch with some of my former teammates who no longer play for the club. That, to me, is important.
Absolutely. Is there a specific memory that you remember from the first moment you came to New York?
The greatest thing I'll remember for the rest of my life was being crowned champions and getting that first title.
That winning feeling must have felt amazing. I really love that! Now that you're settled in the city and have won a championship with the club, how does it feel to represent New York? Is there a sense of pride when wearing the NYCFC jersey?
Honestly, I think it's the best team to be on. I feel very proud to represent the city with my teammates because it's a big responsibility and, at the same time, I love these challenges because it's something unique to be able to represent this city.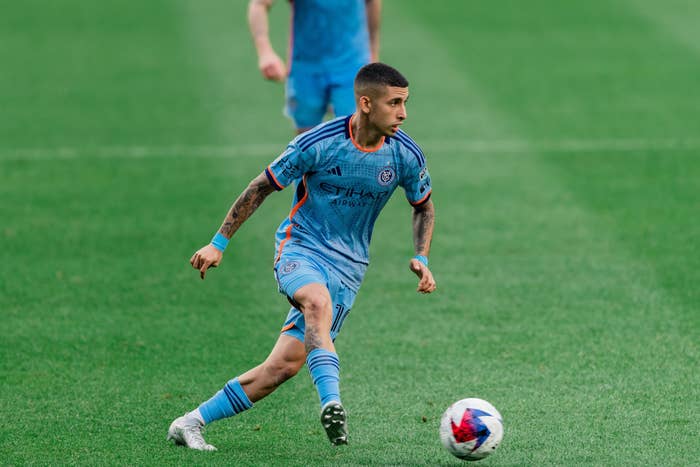 Absolutely. New York is a very passionate fanbase when it comes to their sports teams. Does the energy of the fans have an impact on you when you're playing? Is it important for you that they bring that emotion and how do you feel about the fans who come to watch you and the team?
To the first question: absolutely, yes. For example [during our July 23rd game against Atlas], the fans were constantly cheering us on, and we weren't able to find the goal. At one point, they started cheering us on in a more euphoric way, and that's when we scored the goal that was disallowed, but that shows how important fans are when it comes to soccer, and also the support they give us. Regardless of the final score, whether it's good or bad, they're always by our side, they encourage us to keep going forward. They give us words of encouragement, and ask for pictures and autographs, which for us as athletes and soccer players is something indescribable, something very beautiful.
Is there a memory you have or something that has helped you adapt to New York City?
After spending a lot of time playing and traveling, I think adapting to the city became much easier as well as talking to others and integrating into the community of New York, because at the beginning, I had a little problem of shyness when speaking and saying something wrong or not being understood. I think the fact that the club provided us with English classes through Rennert English School as well as being around my teammates and trying to talk to them really helped me a lot.
I'm from Queens, and there are many Uruguayans here. So many great restaurants, so much good food. What is the Uruguayan community like here to you? Have you found your community here in New York?
Love the community here. The team I played for in Uruguay has a fan club, and they sometimes invite me to events so that I can keep in touch with Uruguayan people, and also with the club itself, which is something else altogether. The community always remembers the experiences they had in Uruguay. It's really something spectacular because it keeps the vibe and the culture of the country we come from alive, and that feels very good.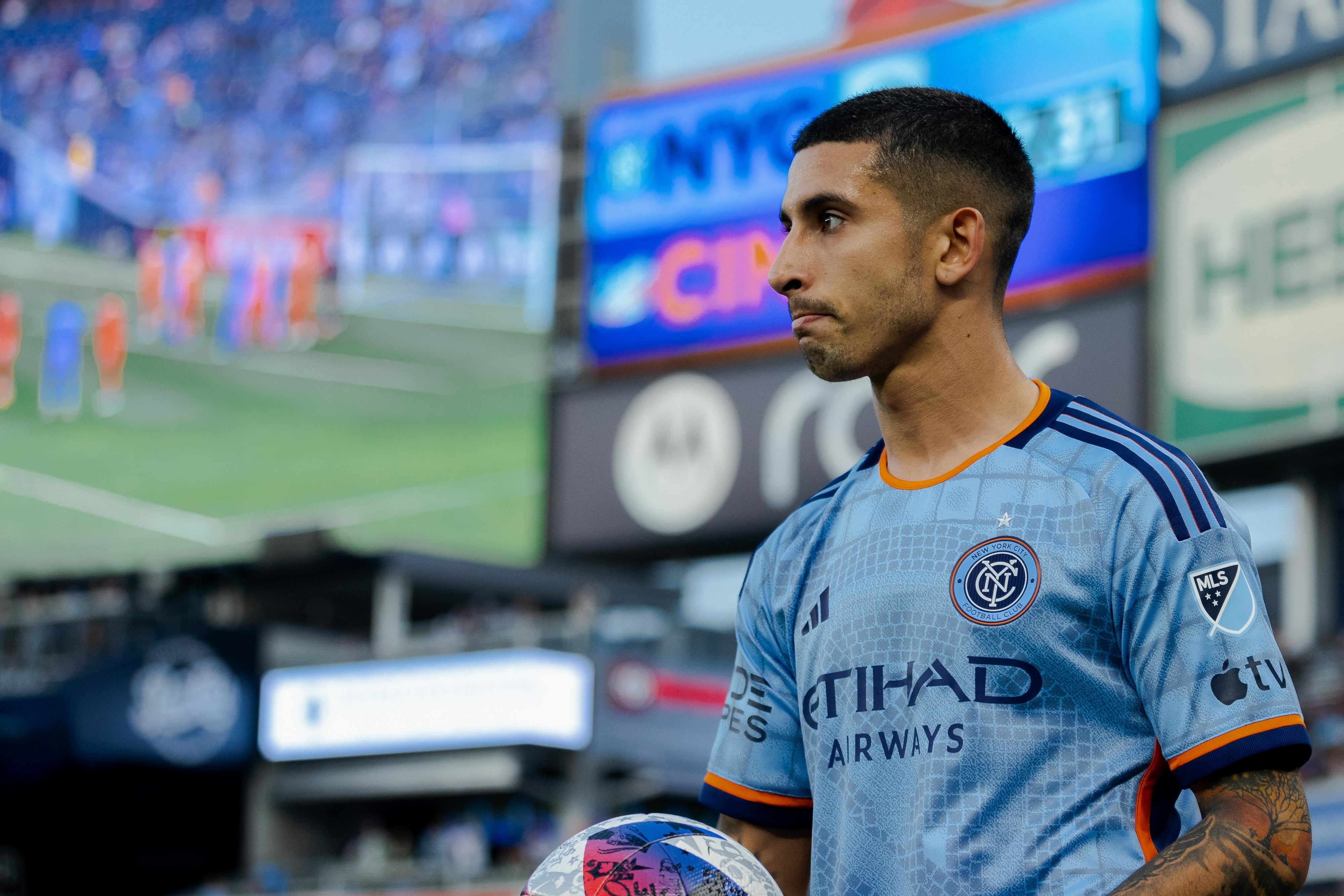 Is there anything you like here that reminds you of Uruguay, like food or music?
There's a dish in Uruguay that really reflects the culture of Uruguayan people, which is 'asado' (meat barbecue). Honestly, there are many places where you can eat it here, but it's not like they make it in Uruguay. I also think coming together to have barbecues reminds me a bit of Uruguay. It makes me miss my family sometimes; they're the ones with whom I do these types of activities the most.
I love barbecues, so I'm really glad you mentioned that. There's a lot of diversity in NYCFC. Just like in New York, you find people from all over the world, for example, Ecuadorians, Colombians, from all over. What have you learned from all these different cultures, and how is your relationship with your teammates and your fans?
I honestly love that because sometimes you run into a stranger from another country who you've never seen or met before, and the conversation flows easily; you tell him about your country, and he tells you about his country or what traditions he still keeps. I think that's something nice and highly respected here because, as you said, there's a lot of diversity. I think it's something we should treasure because it's not something that you find everywhere. I find it super cool, and I really enjoy interacting with people from other countries.
I know you were part of Uruguay's National Youth Academy. How is the soccer culture there different from New York's?
In Uruguay, at 4 years old, you start playing for local teams in your town. The teams here have better resources and equipment to train with. But there's this passion for soccer in Uruguay. I think playing soccer is something unique for almost the entire population of Uruguay, as well as experiencing it as a fan.
It definitely runs in your blood. What was it about soccer that attracted you in the beginning? What was it about soccer that made you think, This is what I need to do?
When I first started, I honestly felt I could play really well and, most importantly, that I was having fun, because when we're kids we just want to have fun. I started to like soccer in a much more passionate way than anything else. My dad also played an important part in me becoming a soccer player because I asked him to let me start playing soccer for teams.
Finally, what would you say to a young kid who's interested in playing soccer for NYCFC one day? Especially if they're just starting out.
There are many things that one has to do when it comes to playing for a professional team like NYCFC. You have to train a lot and be prepared for any situation. Of course, you have to enjoy the sport. You have to eat well and get enough rest; it's very important. You also have to listen to your coaches. Listening to older teammates who have more experience is very helpful, especially in situations where you need to make the right decision and avoid mistakes. Following the advice of older teammates who have gone through what you're going through, who perhaps solved things the right way or made mistakes, that helps you a lot to grow as both a player and a person.