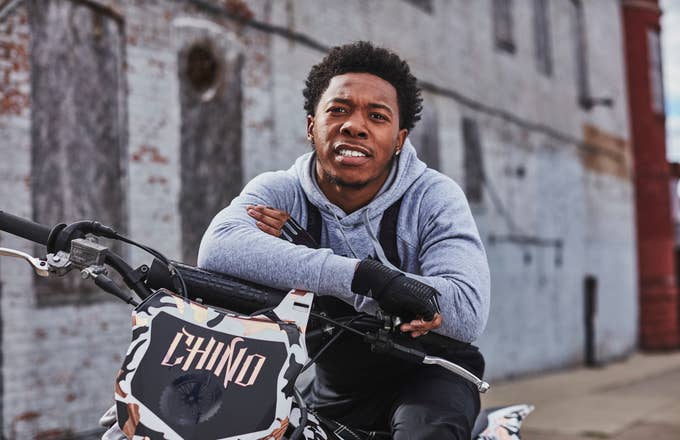 The immense hard work motocross rider Chino has put in resulted in his newest partnership with Roc Nation.
The West Baltimore native acquired his love for the bike life at an early age, as his passion for dirt bikes manifested as early as six years old. His hard work and exploits allowed heavy online exposure, as demonstrations of his abilities were instrumental in amassing a large social media presence and over 11 million views on YouTube. His motocross dealings have even landed him in ventures outside of the sport, as he was featured in premium streetwear label Supreme and Motocross-inspired collaboration with Fox Racing earlier this year in May.
Chino's talent received the attention of fellow bike enthusiast Meek Mill, who, early in his career, took on the role of Chino's mentor. The Philly rapper went on to sign Chino to his Dreamchasers imprint, as attempted to transition to the role of MC before ultimately returning to his lifelong passion. Meek has featured Chino in many of his videos including "Litty" and the 2011 breakout single "Ima Boss."

Aside from his new deal with the powerhouse sports agency firm, the bike aficionado is adding to his already impressive resume. In an interview with Baltimore Sun, he discussed his role in an upcoming motion picture based on the 2013 bike documentary 12 O'Clock Boys by Lofty Nathan. 
"I feel like the movie is going to draw a lot of attention to the bike culture," Chino said of the film, which is set to be co-written by Barry Jenkins (who directed the Oscar-winning movie Moonlight) and executive produced by Will Smith.
Chino's ultimate goal is to "inspire young kids in Baltimore and across the world." Judging by his track record, it appears as if his trajectory is upward, and his latest moves serve as indicators that he has a promising career ahead of him.