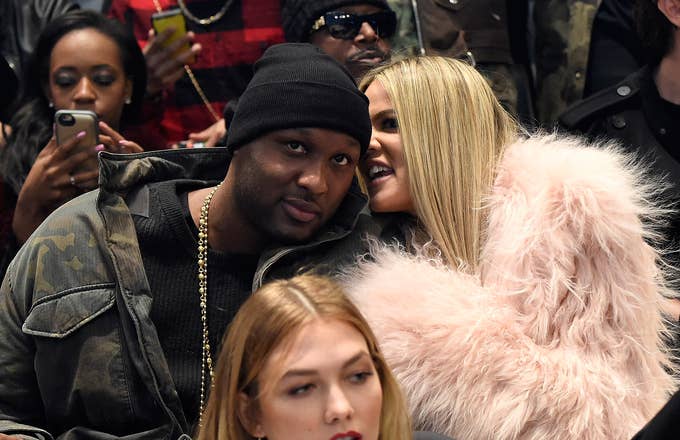 Lamar Odom's marriage to Khloé Kardashian was far from perfect, and now the former NBA player is giving the public a more detailed look at their relationship.
In his new memoir Darkness to Light, Odom recounted an experience involving the use of cocaine and ecstasy in his "man cave," which lead him to make serious threats to his then-wife. The mixture of drugs caused hallucinations, which prompted Khloé to call friends over, a move the former Laker was not particularly fond of.
"Khloé came down and knocked on the door. I opened it suddenly and grabbed her forcefully by the shoulders, which frightened her," Odom writes. "'What the f–k are you doing?' I screamed, out of my mind. 'You trying to embarrass me in front of my friends? I'll fucking kill you! You don't know what I'm capable of!'"
After settling down, Odom, who described himself as "embarrassed and ashamed," went to ask for forgiveness from Khloé, calling the moment "a new low for our relationship and my life…the most regrettable moment in a series of regrettable moments."
The new memoir also covers things such as his sex addiction, as he claims to have slept with over 2000 women. Odom also admitted to his infidelities during his seven-year marriage, writing, "I had broken my vows with Khloé so many times it's just impossible for me to remember them all. I don't know why Khloé stayed with me."
Other anecdotes from Darkness to Light include his use of a prosthetic penis to help pass a drug test, allowing him to play in the 2004 Olympics.
In the above video, TMZ reporters caught up with the 39-year-old, who is currently on a promo run for the new book. When asked about the possibility of turning his life story into a movie, he seemed very open to the idea.
One storyline in Odom's hypothetical film could revolve around the time Love Ranch owner Dennis Hof tried to kill him. While appearing on The View Monday, Odom said that he believes Hof poisoned him on the day he overdosed at the brothel. "Dennis Hof, I don't know what he had against me but I didn't do drugs that night," Odom said. "I don't know what he had against me...he tried to kill me." While the claim seems outlandish, Odom says his attorney conducted an investigation, and employees at the brothel have corroborated his claim.