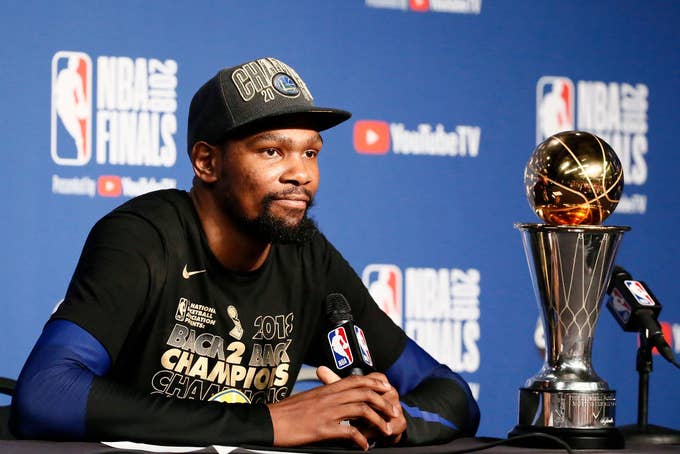 Kevin Durant intends to sign a 2-year deal with the Golden State Warriors.
According to multiple reports, the deal includes a player option for after next season. Marc Stein of The New York Times said that Durant will be paid $30.5 million next season. In July 2019, he will have the option to become a free agent.
"Kevin Durant plans to tell the Warriors after 12:01 a.m. ET that he wants a new one-year contract with a player option for 2019-20 to return to free agency next summer, @NYTSports has learned," Stein tweeted. Larry Brown Sports reports that the 1+1 structure of the contract will give the Warriors some savings for the following season.
That would effectively end the rumor that LeBron James and Kevin Durant were going to team up in Los Angeles to play for the Lakers. ESPN's Stephen A. Smith reported on the outlandish claim on Thursday.
"I got two phone calls last night after hours with folks telling me that LeBron James reached out to Kevin Durant via text, from what I'm told, about coming to Los Angeles," Smith stated. KD, however, wasn't sure where the commentator got that information from. Word is still out on where LeBron will end up, though.