Dwyane Wade Says Jimmy Butler is Building a Hall Of Fame Career
We sat down with Dwyane Wade to discuss the Heat's playoff run, Jimmy Butler becoming legendary, fatherhood, and more.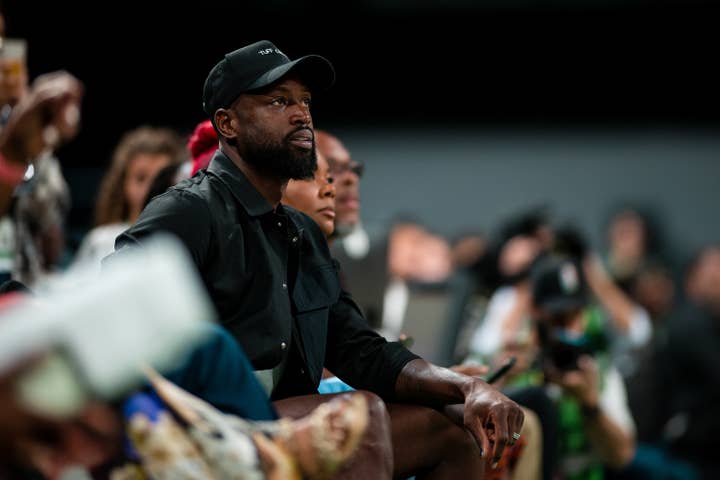 Julien Bacot / NBAE via Getty Images
CAIRO, EGYPT - MAY 8: Dwyane Wade attends the game between the Cape Town Tigers and the The City Oilers on May 8, 2023 at the Dr Hassan Moustafa Sports Hall. NOTE TO USER: User expressly acknowledges and agrees that, by downloading and/or using this photograph, user is consenting to the terms and conditions of the Getty Images License Agreement. Mandatory Copyright Notice: Copyright 2023 NBAE (Photo by Julien Bacot/NBAE via Getty Images)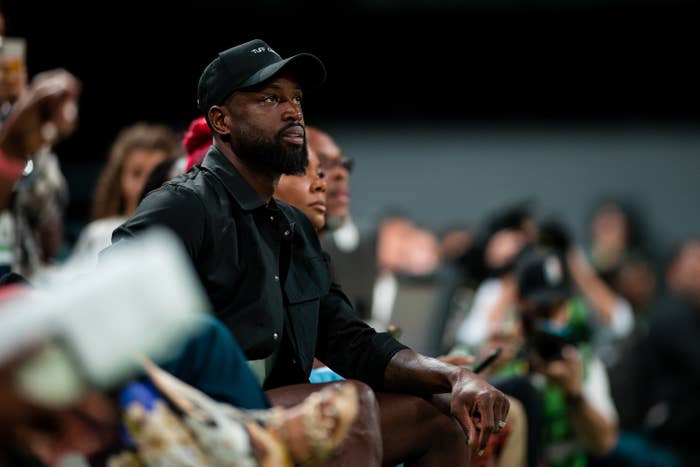 When you mention the name Dwyane Wade, the first thing that typically comes to mind is the Miami Heat. The face of the franchise, and the greatest player to ever don a Heat uniform, Wade has established himself as one of the all-time greats in NBA history specifically for what he was able to accomplish in Miami. But now, he has taken his leadership skills and innate ability to get people to gravitate towards him to host TBS's game show "The Cube".
But even while he's in the middle of his second career, he still has he time to appreciate what his former team is accomplishing right now with the Heat making its third Eastern Conference Finals in four seasons.
"They're writing their history," Wade tells Complex. "Jimmy [Butler], he's building his own story. He's building his own Hall of Fame career. And as someone who's a fan of the game, someone's a fan of his, someone who kind of walks the same track as him, I love to see it. It is great for the game."
We sat down with the legend D-Wade to discuss the Heat's playoff run, Jimmy Butler becoming legendary, fatherhood, his new hit game-show, and much more.
This interview has been condensed and edited for clarity.
The second season of "The Cube" is back, can you speak about how excited you are to be able to host another season?
I'm very excited. Whenever you're doing game shows, to be able to get picked up for a second season means a lot. We are a fairly new show so that means we have built a very good fanbase. We're back and we're going to be better. I definitely think this year is going to be better.
Was hosting a game show, something that you envisioned yourself doing during your plan career or even getting into like television with an unfound passion that you just kind of stumbled upon once you retired from playing in the NBA?
It definitely wasn't something that I planned on doing. I mean, growing up I was fan of game shows, 1000%, all the way back to being a kid, being a fan. But I never thought I would host, until the opportunity actually came to me about being executive producer of it first and foremost. And then they thought I could host it. I didn't, I didn't actually believe it. I was like, I don't know how to host, but I gave it a try. I gave it a chance. And the first season, from the second season, I think you could see the difference between me being comfortable, you know, on stage as a host and, you know, not making it just about the rules, making it about the contestants.
You spoke on how you were, as a host, you wanted to like, make sure everybody was comfortable, be more inviting and engaging in everything. Does anything that you practiced or you used when you were playing and as a leader of a team come into play in any type of way, shape, or form when it comes to hosting?
Yeah, I believe so. You know, it's hard because I get a few seconds to read up on my guests and I get a few seconds to talk to them before we start filming. And so as the game goes on and the whole goal is for them to be on the show for a while so I can get kind of a feel of their personalities, there's certain games that come up that I've already played, and I know 'em. And so if I get a feel of who strengths and who weaknesses very quickly, I can try as a host to try to push them to which game a person should play and just trying to push them to understand what I mean about, hey, this with the rules of the game and trying to get them to understand, hey, this may be your strength, this may be your weakness, or whatever the case may be. Right? And so being a leader in basketball you have to learn the difference of how to lead each. And so I try to bring that as well. I think that helps.
Pivoting a little bit to the NBA right now, how does it make you feel as somebody who is one of the all time greats and the franchise to still see the franchise thriving with Erik Spoelstra and Udonis Haslem still there? People that you, you built this type of culture with there, they're still having this success and it's sustained and and they're having an opportunity to win another championship this season.
You want the people that you love people that have impacted your life, you want them to be successful, and you want good things for them. So, obviously I have so many relationships with a lot of people that's in that arena, who have worked in that arena for 20 years. I've been knowing them and their families, a lot of the fan base. And of course, you know, the front office and Jimmy [Butler] as well. I love what those guys are doing. They're writing their history. Jimmy, he's building his own story. He's building his own Hall of Fame career.
And as someone who's a fan of the game, someone's a fan of his, someone who kind of walks the same track as him. I love to see it. It is great for the game. It's great for Miami obviously. And yes, you want your franchise, you want them to continue something you were a part of, you want them to have success, you want to be a part of that success. You want to go back and wave your hand one day and be a part of the history, and the history doesn't end. If the history ends with you, then maybe you feel like you haven't done the right job. You want to make sure that the culture and everything that the plate is set, so once you leave that the next individuals that can come that they can just hop on and they don't have to rebuild and start all the way over. And so it's good to see the success that they're having shortly after I've retired right away. Three years in the Eastern Conference Finals, and you gotta give a lot of credit to Spo, Jimmy and those players.
Speaking of Jimmy, it takes a special type of guy to be able to elevate when the competition is the strongest. You obviously were able to do it during your career. You played next to LeBron James, Chris Bosh, Shaquille O'Neil, Alonzo Morning, a lot of all time greats. Can you speak to what it is about him that allows him to lock in and take his game to another level when the playoffs arrive?
Well, he obviously has something special inside him that you can't see from the naked eye. He has the ability to go to another level, right? Not everybody has that ability. So listen, some of that is God given, but a lot of it too, for Jimmy and, and guys like Jimmy, you think about Kobe and you think about MJ, you think about LeBron, you think about Steph, this is this work. It's the work that these individual people have put into their game that their confidence is in their work. You know what I mean? And so Jimmy is all confidence because he puts the work in and he doesn't feel anyone works harder than him.
And he's mastered the game of basketball. And so it's a beautiful thing to see. But at the same time, some of it is God-given man to be able to click and go to another level each round, you know, that's special. And that's why you have, you know, great players, some of the greatest players, you have good players, you have just average players, whatever the case may be, because of the ability to be able to go to these different levels. Especially at the time that it really, really matters.
Reggie Miller said Jimmy's Game 4 against the Bucks was the greatest performance in Miami Heat history. You have the 2006 finals under your belt, along with various other great playoff performances. You were there next to LeBron during the Heatles era. You played next to Shaq. Is that hyperbole from Reggie, or do you truly believe that his Game 4 was up there as one of the greatest performances in franchise history?
Oh, it's, it's no doubt. That was one of the dopest performances in NBA history. It's not even franchise history, it's just a basketball player, what he displayed on that night. You can argue that it's one of the greatest ever, right? And so no Reggie's not wrong for the hype now. Well, I think we've all had those moments. LeBron had some, he was in that jersey, Shaq had some, I had some, it doesn't matter, you know what I mean? It's all about winning and getting to the next game. You get to the next moment. So that's what I love to see. And that's the excitement of the game to see what a player can do. Can they go to levels of people before them? Can they reach, can they go to levels they didn't even know they had? And I think we watched Jimmy do that. That was one of the greatest performances, individual performances that I ever watched with my eyes. You can't get caught up in, is it No. 1? Is it No. 2, who cares? You know what I mean? Reggie experienced that in that moment. At that moment it was one of the greatest basketball performances that any of us have ever seen. You just go from there.
I want to ask you about fatherhood quickly. We saw how proud LeBron was of Bronny committing to USC, that's one of your closest friends. You are a very active, visible and supportive parent in your own right. Can you speak to what it feels like in that type of moment where you've come from, and the childhood that you might not have had, and providing those things to your own children. What does it feel like to be able to provide those type of experiences for your family? And then to see even your own son, Zaire, you get to see his personal growth as a player and a man close up because of your relationship with him and ownership of Utah Jazz. Can you just speak to what it feels like to see your own child, not follow your footsteps, but create their own path and know that you were able to help pave that way for them?
Yeah, man, I think LeBron and I both are very blessed that we were chosen to be the individuals in our family to lead our family out of poverty in a sense. And to be able to do that, it takes everything. And, and also what you don't even know you have, because you haven't seen it right up close a person. So, it's hard to accomplish something when you've never seen it done before. So you have to obviously give us credit for doing that. But, you know, for our kids to be able to have the opportunities and the resources that we've been lucky enough to be able to work for, and to be able to take it and make it work for them in a way that works for them.
I think guys like Bronny and guys like Zaire and guys that have fathers or parents that are doing something successful, it's always a knock on them because they ain't getting it the way that someone thinks they should get it. It's hard in life no matter which way you gotta get it. And so, our kids have been provided opportunities, and to see Bronny take advantage of those opportunities the way he has at such a young age, you can't do anything but root for that young man. You can't do anything but celebrate him. And the same thing with my son Zaire, to see him take advantage of the opportunities and understand that it's not about living up to anyone's expectations. It's about having your own dreams and having an ability to be able to chase those dreams.
And we watch our kids do it every day. So you're proud. You're proud as a father because you just want your kids to get up every day and chase something and, and put everything they have into it and whatever comes out of it, you know they're going to learn so much about life in themselves and you're just proud of them for doing it. I think we're both proud of our kids from the different journeys that they're taking. And it's different from our journey. Bronny's going to college. LeBron didn't. My son is playing in Africa. I didn't. Their journey is different. But it's beautiful to watch.