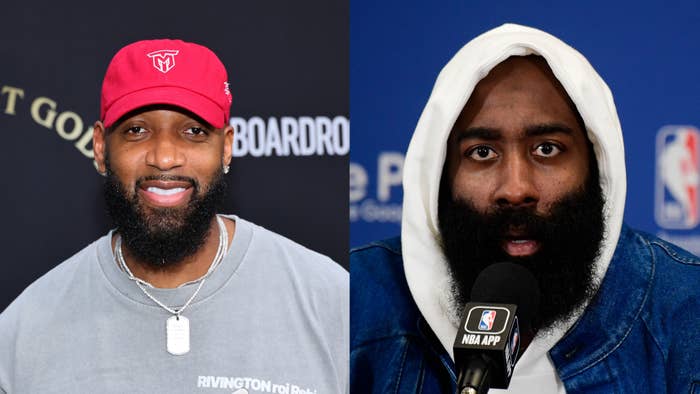 Tracy McGrady cannot understand why James Harden is so determined to leave the Philadelphia 76ers and reigning NBA MVP Joel Embiid.
In an interview with GQ, McGrady discussed what he considers to be the "evolution of the NBA," where disgruntled superstars force their way out in favor of a better situation. Damian Lillard is the latest player to demand a trade and specific destination: Miami.
While McGrady believes the time has come for Lillard and Portland to part ways, he thinks the Trail Blazers should also do what's in their best interest when it comes to trading him away.
"You get hit with some shit each and every year. Dame, to me, it was time," the 44-year-old said. "But if I'm Portland, I got to do what's best for our franchise, as well. I'm not gonna give away you, Dame, with you just coming off averaging 32 points. You still got game. I gotta get someone back that's All-Star caliber."
McGrady, however, doesn't see Harden's situation in the same light. "And I don't understand for the life of me what James Harden is doing," he wondered. "Why are you trying to get out?"
According to ESPN's Adrian Wojnarowski, 33-year-old Harden requested a trade last month after opting into his $35.6 million contract with the 76ers for the 2023-24 season. It was later reported that the 33-year-old guard had his sights set on joining the Los Angeles Clippers.
"That makes zero sense to me," T-Mac said. "Not only that, but I look at all the teammates he's played with. James has probably played with more Hall of Famers than anybody in the league, and he doesn't have a ring to show for it."
After spending nine seasons with the Houston Rockets, Harden played alongside Kevin Durant and Kyrie Irving in Brooklyn, and Embiid in Philadelphia. He now appears to be interested in joining Kawhi Leonard, Paul George, and former Oklahoma City Thunder teammate Russell Westbrook in Los Angeles.
"I don't know what he's looking for," McGrady said. "And maybe there's some internal bullshit that is going on that we don't know about. Because it doesn't make any sense to me to leave the MVP, and the Eastern Conference, where you have a shot to at least play for a championship. It's got to be something deeper than what you know. Get over it, man."