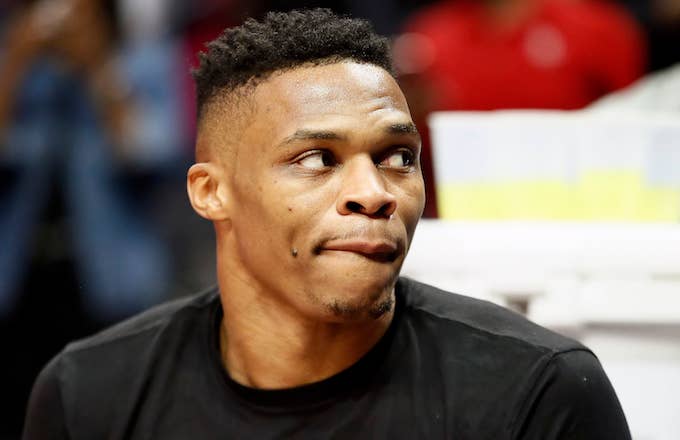 Less than six months ago, the Houston Rockets acquiredRussell Westbrook in a deal with the Oklahoma City Thunder in exchange for Chris Paul and several draft picks. Now, rumors have already begun to circulate about the Rockets' willingness to entertain the possibility of trading Westbrook. 
"I think Westbrook is available," The Ringer's Ryen Russillo said, per Pro Basketball Talk. "We can talk about semantics. Of course, Daryl Morey would trade anyone if he thought it made his team better. Of course, he would trade Westbrook if he could get off of that long-term money, if he thought the assets, the sum of the parts was better than having somebody that's considered a top-10 player."
The long-term max contract money attached to Westbrook is similar to the problem that they faced with Paul. However, CP3 has three years remaining on his current deal while Westbrook has four. The Rockets may not have been worried about taking such a huge financial burden if it came at the expense of making their franchise player, James Harden, happy. 
Amid reports of tension between Paul and Harden in their final season together with the Rockets, Morey knew the duo had to be split up and they needed to keep Harden in good spirits. What better way to do that then trading for his friend?
"Is Daryl Morey actively calling people, saying, 'Hey, I've got to dump Westbrook?' Well, of course, he wouldn't do it that way," Russillo continued. "But there are people who believe Westbrook is available and that Daryl knows, 'I've got to figure something out here.' 
If there is truly a desire to move off of Westbrook, the timing isn't all that surprising. The Rockets lost on Christmas Day to the lowly Golden State Warriors in a game where Westbrook shot 11-for-32 from the field and 0-for-8 from beyond the arc. His three-point percentage this season (23.8) is the second lowest of his career.
Westbrook's struggles from beyond the arc have proven to be a problem for a Houston offense that heavily relies on the three. If he cannot get better, he's a liability and maybe even a player on the trading block.
"I'm sure people will deny this after they hear it on the podcast," Russillo said. "I don't care."