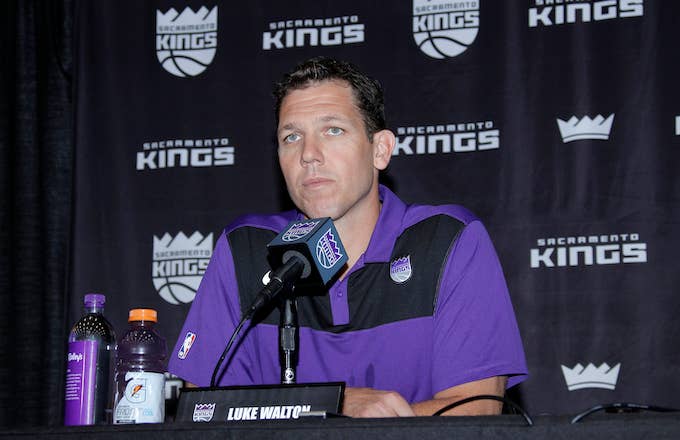 UPDATED 4/24/19 3:32 p.m. ET: In a statement to TMZ Sports, Luke Walton's attorney, Mark Baute, said his client's alleged victim has no evidence to support her accusations.
"These claims are false and Luke's innocence will be proven in court," Baute said in response to the press conference Kelli Tennant held with her legal team on Tuesday. 
"Yesterday's press conference was a poorly staged attempt to portray the accuser as a viable spokesperson for an important movement," Baute stated. "[Tennant's] lawyers want to create a public circus to distract from their complete lack of evidence to support their outrageous claims. We will not try this case in the media or pay them a dime."
See original story below.
Sacramento Kings head coach Luke Walton is being sued for sexual assault by sports reporter Kelli Tennant, TMZ Sports reports. 
Tennant says the incident occurred at a hotel in Santa Monica prior to Walton becoming head coach of the Los Angeles Lakers. She alleges that he asked her to meet him to discuss the book that she was working on at the time. Given their business relationship which dates back "several years," Tennant was hoping to have Luke write a foreword. 
When Tennant arrived in his room, she claims Walton pinned her to the bed by pressing his hips and legs over her body before forcing kisses on her neck, face, and chest. As she tried to free herself from his grasp while screaming for him to stop, Walton allegedly groped her breasts and groin, as well as rubbing his erection on her leg. 
When Walton finally let her go from his clutches, Tennant alleges that he grabbed her from behind and forced his body against her as she made her way towards the door. The alleged ordeal ended with her walking through the door and hearing Walton say "Good to see you."
Tennant claims her job was the reason why she didn't initially report the incident.
Walton was announced as the new head coach of the Kings, two days after it was revealed that the Lakers and Walton had mutually agreed to part ways.