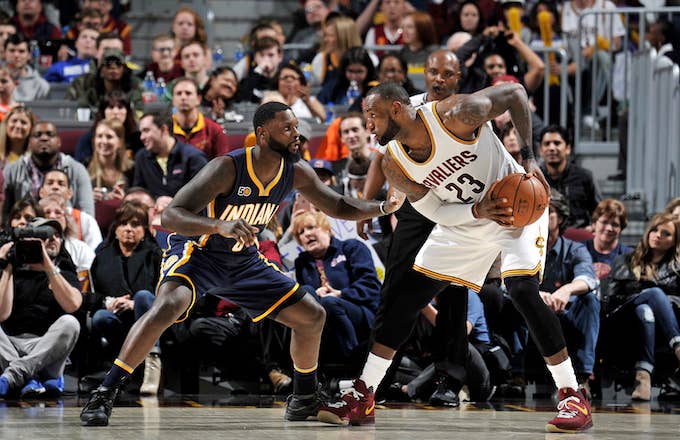 LeBron James and Indiana Pacers guard Lance Stephenson were getting chippy with one another last night like it was 2014 all over again. In the 4th quarter of Friday's contest, Stephenson was draped all over James during a break in the action, causing him to lightly shove Lance out of the way.
The referees gave LeBron a technical foul, but more importantly, Stephenson was once again able to get into the head of his longtime rival. Following the Cavaliers' 97-95 loss, James spoke candidly about Lance and the incident that led to his tech. 
"Lance is just a little dirty, that's all," LeBron said. "I mean, we got history, so I should've known though. I've known since school that it's not the guy who tells the joke who gets caught, it's the guy who laughs. So they caught me on the retaliation. He played well."
With James experiencing one of his lowest moments as a member of the Cavaliers this season, it didn't take much for Stephenson to get under the skin of the King. The Cavs have lost seven of their last nine games while giving at least 125 points in three of those contests, and on Thursday, LeBron laid into his teammates during their 34-point loss to the Toronto Raptors.