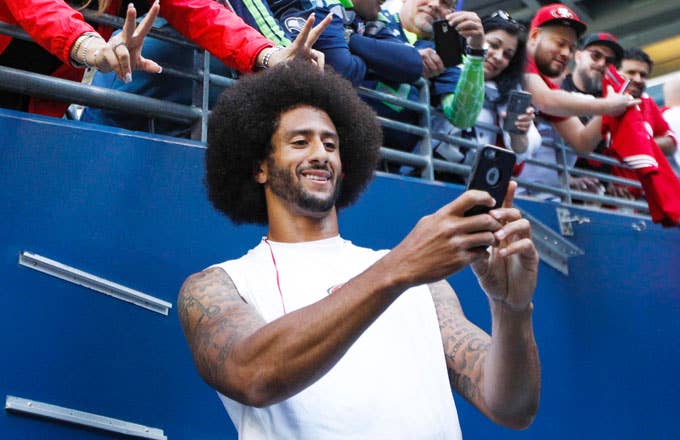 As a result of the collusion grievance that Colin Kaepernick has filed against the NFL, notable owners including, but not limited to, Jerry Jones (Cowboys), Bob McNair (Texans) and Robert Kraft (Patriots) will reportedly be deposed, and will receive a request to hand over their relevant cell phone records and emails, according to Adam Schefter.
It is not clear if it's the league or the court that's asking for these records.
Additional owners and league officials will also be deposed, including the 49ers' Jed York and the Seahawks' Paul Allen. As reported byABC News, these owners were chosen based upon public statements they made about either Kaepernick or national anthem sideline protests in general.
Last month Kaepernick's attorney, Mark Geragos, announced that his client filed a grievance that accused NFL owners of banding together to keep him out of the league. That filing alleged that owners "have colluded to deprive Mr. Kaepernick of employment rights in retaliation for Mr. Kaepernick's leadership and advocacy for equality and social justice and his bringing awareness to peculiar institutions still undermining racial equality in the United States."
After that grievance was filed, Kaepernick took to his Twitter account to state that he took this action "only after pursuing every possible avenue with all NFL teams and their executives."
During an off-camera interview that ignited some controversy, it was reported by CBS Sports' Jason La Canfora that Kaepernick said he was looking for an opportunity to play, and that he would go to any of the 32 NFL teams for a workout. In addition to that, the quarterback's agent has reached out to every single franchise in an effort to note that the free agent, who turned 30-years-old today, is available.