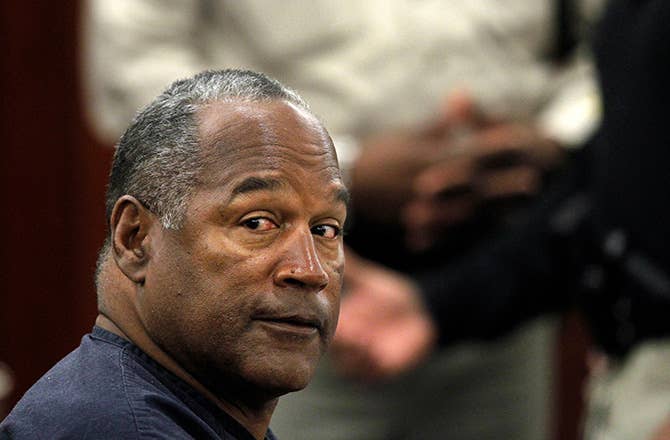 O.J. Simpson's parole hearing for a 2007 robbery/kidnapping in Las Vegas will take place on Thursday, July 20, and, just like basically every time he's been in a courtroom over the past 23 years, you can watch it live from your living room.
According to The Wrap, the hearing will take place at 1 p.m. ET on the above date, and will be aired as it happens by ESPN (amongst others). Furthermore, Page Six reports that Simpson will show up via a video feed from the prison he's currently incarcerated in, Lovelock Correctional Center in Lovelock, Nevada.
While it would seem weird to continue to focus on this guy, FX's hit American Crime Story: The People vs. O.J. Simpson, as well as ESPN's Oscar winning five-part documentary O.J.: Made in America, have proven that O.J. is the accused murderer that audiences just can't get enough of.
While the details of O.J.'s alleged murders and subsequent criminal trial are well known at this point (and, if you don't know, there's definitely no shortage of info out there) the four-person parole board that will conduct Thursday's hearing will weigh whether or not to grant Simpson's release from a 2008 conviction of armed robbery and kidnapping, following an incident with memorabilia dealers the year before. His original sentence was for 33 years. Thus far he's served nine.
In 2013 he was granted parole on a few of the 12 original charges, but still had to serve an additional four years for some weapons-related convictions, including assault with a deadly weapon.
If granted a release O.J. will be free to walk out of the prison on October 1.
Citing a guard who's supposedly close to Simpson, Page Six reports that O.J. is nervous that the expected media circus will influence the parole board to deny his release.
Sounds like more courtroom drama for this guy/the masses.
Send all complaints, compliments, and tips to sportstips@complex.com.