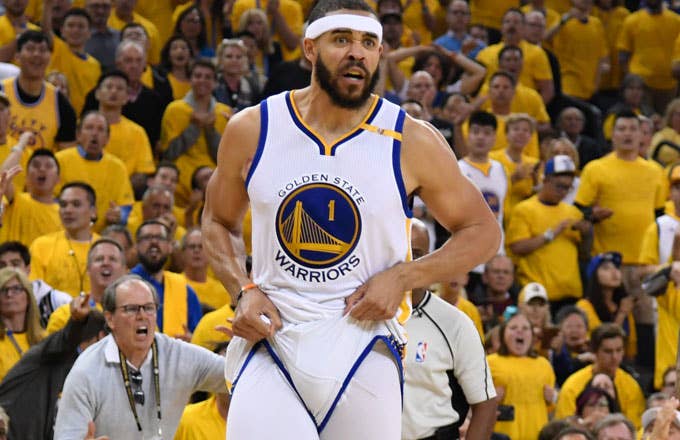 Maybe, and we're speculating here, you want the Cavs to win Game 5 because you've been bored out of your gourd at these playoffs and want some sort of climactic finale to justify all the hype. Or, maybe, you got some jokes about 3-0 comebacks you really want to use. Or, finally, maybe you're just a Cavs fan. That would make sense. 
But not everyone wants this series to continue. Take, for instance, Golden State center JaVale McGee, who wants the Warriors to get it done on Monday night so he can catch the upcoming 2Pac biopic, All Eyez on Me, when it opens later this week. And if you're thinking he's just a diehard Pac fan, you're right. So are lots of people. But it's also because he's invested some of his dough in the movie.
According to The Undefeated, the flick's producer, L.T. Hutton, approached McGee last summer with the script to see if he'd be interested in funding part of the project. "It's June 16. If you love 2Pac, you should go see it," McGee said. "Even if you don't know anything about 2Pac, it tells you his story from the time he was a kid. It's pretty good."
He later added, about his financial role in the film, "I've always been into producing stuff. I got put into a position where I was able to be more of a monetary producer in the 2Pac movie. So I jumped at the chance, especially after I saw the movie. It's a great movie. I think it's going to be a good one."
All Eyez on Me opens on Friday, June 16. So, technically, the Warriors can win it in six and McGee could still make it to a movie theater (in Cleveland) in time for the premiere. He just won't be able to attend the premiere. You know, the one with the stars and stuff.
Guess we'll see tonight if LeBron and Co. are moved by his predicament. We're guessing you'll be tuning in too.