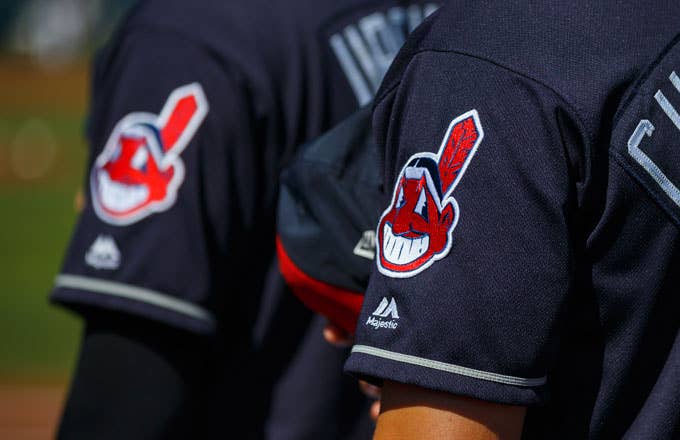 On Monday, the Cleveland Indians unveiled the uniforms they'll don for the 2019 MLB season, and absent on said uniforms (for the first time in 70 years) was the Chief Wahoo logo, which has been a source of contention for years/decades as part of the larger debate of using Native Americans as mascots. Monday's unveiling simply represents the final result of a long term plan to phase out the cartoonish depiction, as the team announced back in January that this would be the last season that they'd sport it. Consequently, the team's long-time emblem won't appear on any of the four uniform variations they'll wear next season. Other than that, they pretty much look the same (except for that new red home alternate one):
Chief Wahoo had been a centerpiece of a surprisingly heated mascot debate, with the logo still being beloved by many of the team's fans. Baseball's brass (including MLB commissioner Rob Manfred) had had a number of discussions with the club to decide what to do with the logo, and both sides settled on an agreement which would wipe it from the team's on-field jerseys and caps. For now the image will be replaced with 'Block-C' logos on hats and helmets, which have already been on unis for the past several seasons. The fact that the team will host the 2019 MLB All-Star Game also actually helped with the pivot, since the new uniforms will have an All Star Game logo on the sleeve, in place of where the Chief previously was.
"Major League Baseball is committed to building a culture of diversity and inclusion throughout the game," said Manfred in January. "Over the past year, we encouraged dialogue with the Indians organization about the club's use of the Chief Wahoo logo. During our constructive conversations, [Indians owner] Paul Dolan made clear that there are fans who have a long-standing attachment to the logo and its place in the history of the team."
"Nonetheless, the club ultimately agreed with my position that the logo is no longer appropriate for on-field use in Major League Baseball, and I appreciate Mr. Dolan's acknowledgement that removing it from the on-field uniform by the start of the 2019 season is the right course."
Additionally, while the actual team won't be sporting Chief Wahoo during their games, it'll still undoubtedly turn up in the stands as the Indians will still maintain control of the trademark by selling a limited amount of merchandise featuring the controversial logo.