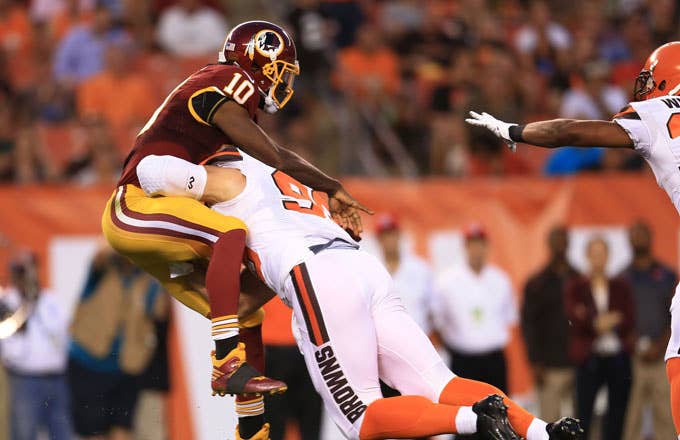 The Cleveland Browns, a team desperately in need of a quarterback, are reportedly "moving forward" with Robert Griffin III, a quarterback desperately in need of a team. While the term "moving forward" is ambiguous (which is why it's in quotes) the phrase did come from Sashi Brown, the organization's Executive Vice President of Football Operations, who said it this morning at the NFL Annual Meeting.
While a forthcoming signing doesn't sound likely, it does indicate which veteran quarterback the franchise is interested in, as the brass also said they're not in any sort of "trade talks" with the 49ers for Colin Kaepernick.
Griffin had met with new Browns head coach Hue Jackson over the weekend, where Jackson said, "It was a great meeting. I think he's obviously a tremendous talent and a great young man."
Of course there's also a rarely hyped event next month called the Draft, where the team could look to address their decades long search to find a semi-competent quarterback they can add to this disheartening list. 
Either way it's probably best to keep your expectations low. Not that Browns fans have to be told that. 
[via Cleveland.com]
Send all complaints, compliments, and tips to sportstips@complex.com