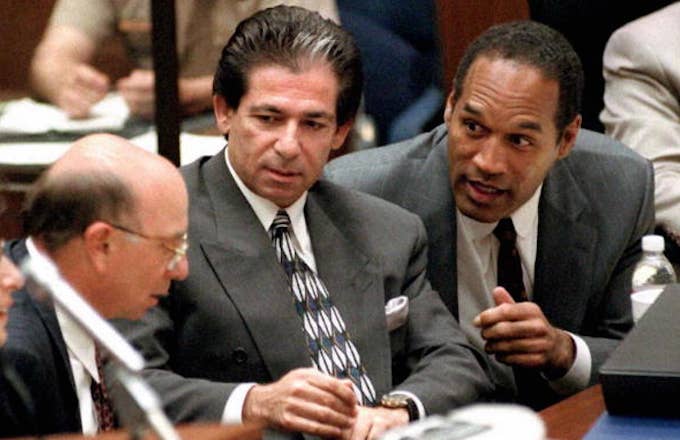 In case David Schwimmer's face didn't properly convey self-doubt to you in last year's The People vs. O.J. Simpson, Caitlyn Jenner is here to clear up just what exactly Robert Kardashian thought about his accused-murderer friend—at least according to an "exclusive excerpt" on Radar Online of Jenner's upcoming memoir Secrets of My Life.
In this excerpt, Jenner says that Kardashian believed O.J. was guilty, and defended him despite this belief. Jenner ponders whether the lawyer's stance was payback for his ex-wife Kris marrying into the Jenner clan. "I wonder if it was [Robert's] way of saying to [Kris] what I think she was saying to him when she married me: a big f*** you," Jenner says. In case you somehow have been able to avoid the details of this trial, A.) Congrats and B.) Kris Jenner was best friends with Nicole Brown Simpson.
Kardashian allegedly implied that the Hall of Fame back was guilty during a car ride he took with Jenner back in the late '90s.
"I would've been okay with it if they had gotten him in the first trial," Caitlin recalls Robert saying, in reference to the wrongful death civil trial that O.J. lost in 1998. She continues, "The implication was obvious that he believed O.J. was guilty."
Jenner went into further detail about O.J., whom she said she knew well due to her relationship with Kris. "He was the most narcissistic, egocentric, neediest a**hole in the world of sports I had ever seen, and I had seen a lot of them," she writes. And that's coming from someone who turned her own gender transition into a reality show. 
Jenner goes on to say that she, like lots of other people, thinks the Juice is guilty. However, that apparently wasn't a unanimous opinion in the Kardashian household, with Kourtney and Kim taking O.J.'s side.Because of that, Jenner felt it necessary to ban her stepdaughters from mentioning his name in the house.
All of these claims are made in Jenner's upcoming memoir Secrets of My Life, which will be available on April 25.