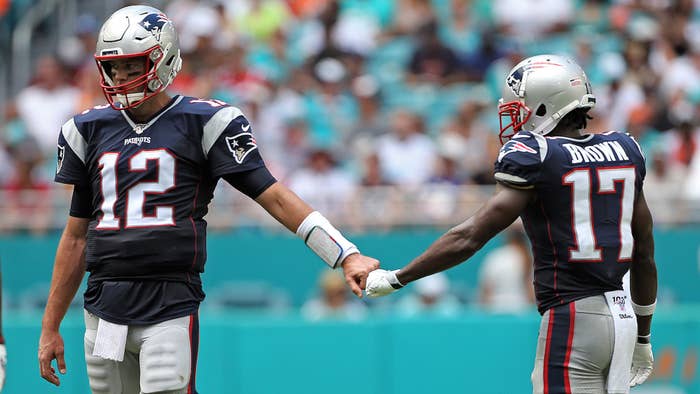 As NFL free agency inches closer, all eyes are on Tom Brady as the quarterback could be up for grabs. Yet no matter where he goes, Brady is looking to make a strong case for Antonio Brown to accompany him as part of the package. 
Two sources close to the wideout tell ESPN that Antonio Brown and Tom Brady have been in constant communication despite AB's recent estrangement from the NFL. Brady has reportedly been focused on keeping Brown mentally strong while assuring him that he wants the wide receiver to be by his side no matter where he ends up next. 
According to one of Brown's attorneys, Brady has told Brown to keep mentally and physically strong so the two can reunite on the field at Brady's next stop. Anything concerning Brown should be taken with not a grain but a bucket of salt at this point, but it does seem as if Brady and Brown formed at least some level of connection in their incredibly brief time together in New England.
Antonio Brown and Tom Brady had a brief on-field connection earlier this season when AB forced his way out of Oakland and on to the Patriots. But, Brown's growing legal trouble forced the Patriots to waive him from the roster after just one game. Although he went on the offensive against owner Robert Kraft following his exit, Brown has maintained his desire to play with Brady.
"Tom if you listening to this, I love you bro!" AB said during his appearance on Complex's Load Management podcast. "Where ever Tom go I think I wan to play with Tom. 2020 Tom to AB."
Tom Brady is gearing up to field potential suitors. While the Patriots are prepared to offer him a contract worth an excess of 30 million a year, Brady could be thinking about a change of scenery as both the Los Angeles Chargers and Las Vegas Raiders are rumored to be serious contenders for Brady's services.