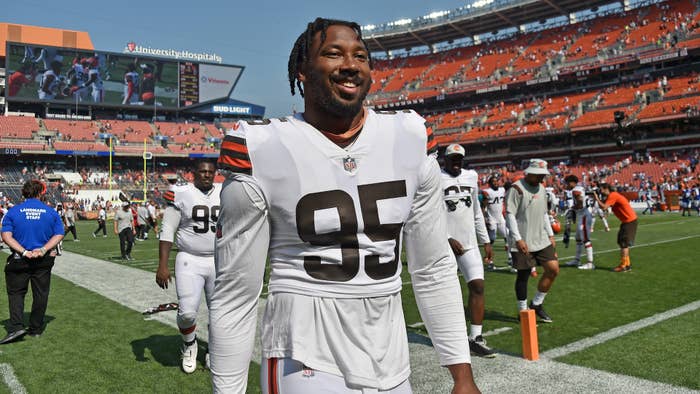 Myles Garrett sure takes his reputation as a nightmare for opposing quarterbacks seriously.
TMZ obtained images of the Browns defensive end's home, and pictured in the front yard are Halloween decorations in the form of tombstones with the names of some of the talented quarterbacks Garrett and the Browns will face this season.
Along with Browns rivals Ben Roethlisberger of the Steelers and Cincinnati's Joe Burrow, Garrett also honored the NFL's current MVP frontrunner and dynamic dual threat, Lamar Jackson in his own special way.
Garrett also had resting places for Arizona's Kyler Murray, the Bears' Justin Fields, New England's Mac Jones, and the Chargers' Justin "J Herbo" Herbert. Scheduled opponents like Aaron Rodgers, Derrick Carr, and Patrick Mahomes notably didn't make it into Garrett's faux cemetery.
Each grave has its own light on it so it can be seen at night and there are phrases like "R.I.P" and "Here lies" on the tombstones. These graves compliment two giant skeletons, a scarecrow, pumpkins, and other decorations that accent the Garrett home. 
Garret and the Browns are currently 4-1 and on track to make the playoffs for the second straight year. Happy Halloween indeed.