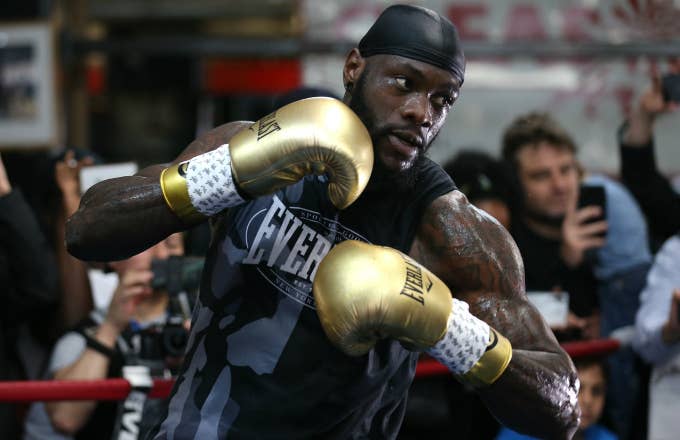 Before Deontay Wilder attempts to fend off contender Dominic Breazeale on Saturday, he first has to defend himself from criticism surrounding the comments he made about his plans for his opponent. 
On several occasions, Wilder has alluded that he wants to "kill" his opponent when they square off. While "killing" the competition is a heavily used sports metaphor, Wilder made it clear that he's not speaking figuratively. Because of this, boxing critics have condemned Wilder's antics, claiming the comments are unsportsmanlike. Yet, Wilder reminded them that killing a man is kind of his job.
"This is the only sport where you can kill a man and get paid for it at the same time," Wilder said. "It's legal. So why not use my right to do so?"
While fielding questions from the media on Tuesday, Wilder made sure to ruffle feathers by repeating his morbid goal. He explained that his words are the result of Breazeale deciding to provoke him with this fight. 
"[Breazeale's] life is on the line for this fight and I do mean his life. I am still trying to get me a body on my record," Wilder said. "Dominic Breazeale asked for this. I didn't go seek him. He [sought] me. So if it comes it comes. This is a brutal sport. This is not a gentleman sport,"
"We don't ask to hit each other in the face but we do anyway," he continued. "And you can ask any doctor around the world, he will tell you, your head is not meant to be hit."
Wilder's match-up against Breazeale will be his first fight since the controversial draw with Tyson Fury. That was the first of his 41 professional fights that Wilder didn't clearly win. As a result, the boxer has a lot to prove when he defends his WBC title against Breazeale.