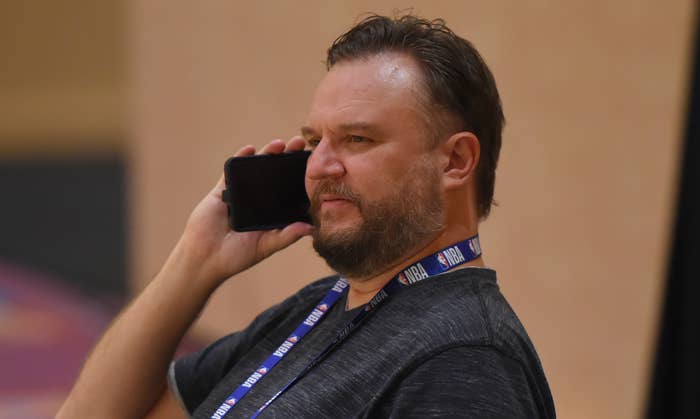 On Thursday, Philadelphia 76ers President Daryl Morey raised eyebrows when he shared a picture of Steph Curry praising his brother Seth for his great performance in the Sixers' close-out game against the Wizards. In the process, Morey seemingly toed the tampering line by telling Steph to "join" his brother. 
People were quick to accuse Morey of tampering, which he swiftly denied by attempting to clarify what he meant.
"My goodness folks I am talking about the fact that we are all thrilled @sdotcurry is here with the @sixers – nothing else!" Morey tweeted.
It's no surprise that people inferred meaning into Morey's tweet, since he's been fined for tampering before. Last year, the NBA fined Morey $50,000 for violating the league's anti-tampering rule after he tweeted an acknowledgment of a James Harden scoring anniversary while his former star was on the trading block in Houston. 
Morey's Twitter fingers also plunged the NBA into crisis with China when he tried advocating for civil rights using the social media platform. 
Meanwhile, any team would be lucky to have Steph Curry. Unfortunately for Morey, Steph still has one more year left on his 5-year $201,158,790 contract and is expected to make close to $46 million next season. To fit him into an equation that involves big contract players like Ben Simmons, Joel Embiid, and Tobias Harris, Philly would have to move major mountains. But for a chance at landing Steph, it would be totally worth it.