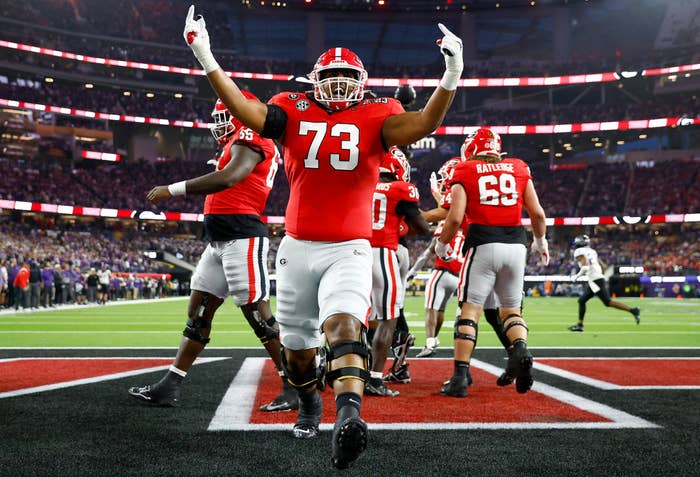 The University of Georgia has proven that they can boat-race any opponent, dispatching Texas Christian University 65-7 win while shattering College Football Playoff records for first-half points, full game points, as well as margin of victory. Georgia entered the game as a 13.5-point favorite, but most pundits figured TCU Heisman finalist Max Duggan and projected first-round wide receiver Quentin Johnston to make it a close game. That did not happen. Early in the 2nd quarter, the clock was already striking midnight on TCU's Cinderella story when Georgia went up 24-7, matching TCU's second-largest deficit of the season putting the TCU Horned Frogs on a proverbial BBQ Chicken Alert. 
But then it became a literal BBQ Chicken Alert: Late in the fourth quarter, with the Dawgs up 58-7, the official CFP Playoff TikTok account posted a video of UGA tailback Kendall Milton wandering over to a field-level suite, fetching a plate of wings from a fan, and marching through cheerleaders, photographers, and press before sharing them with his entire offensive line. With almost a full quarter left to play.
They didn't even bother to take off their gloves—their white gloves—or even cut off their wrist tape. On national TV, Milton and his O-line weren't lining up in the victory formation, they were digging into a plate of SoFi Stadium's finest hot wings. You've gotta wonder how they compare to the best the Peach State has to offer. Were there options beyond the standard buffalo and BBQ? Maybe a little mango habanero? Garlic parm? Wet sauce or dry rub? Breaded? Fried hard? It's unclear which was more disrespectful: Quarterback Stetson Bennett throwing deep in the fourth quarter, 50-point lead be damned, or his teammates shooting their own version of Hot Ones while TCU's starters were still fighting for their lives.
As they're being crowned college football's latest dynasty, it's important to remember just how hard they prepared for exactly this scenario. Back at their preseason camp in 2019, when back-to-back titles were a twinkle in Kirby Smart's eye, the team sat its players down and challenged them to eat four wings in three minutes—with no water. They already knew what was coming! Which is why Georgia's offensive line probably had more trouble cleaning those chicken bones than they did with TCU's defense.