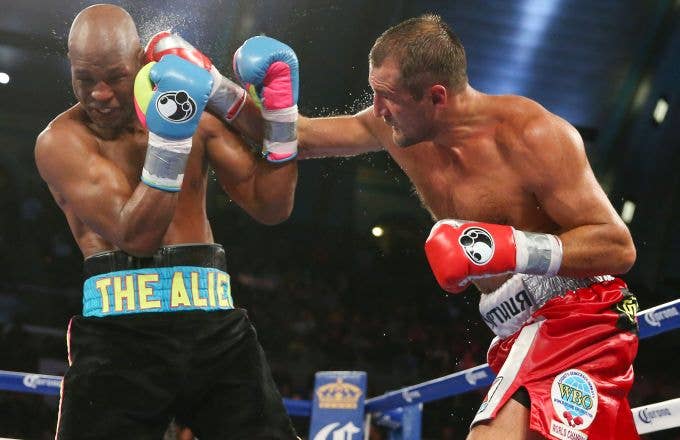 Bernard Hopkins got absolutely pounded in the ring last night, getting knocked down by Sergey Kovalev in the first round and taking a ton of punishment all night long as he lost a "shutout" decision and two light heavyweight title belts along with it.
Anticipation for the fight was high largely to due Hopkins' presence, as the soon-to-be-50-year-old sought to unify three different titles. Instead it was Kovalev who put on the show, landing 166 punches to Hopkins' 65 and absolutely punishing the veteran fighter.
Hopkins' overall record fell to 55-7-2 with the loss, while Kovalev remained undefeated at 26-0-1. "I give him a lot of respect," the former champion said. "We both would fight anyone and that's how we ended up here tonight. That's what brought us together. That's what the people want to see, one title, one belt, one champion."
Obviously the question now becomes whether Hopkins will retire; after all, 50 is not exactly prime fighting age. "I don't really want to say anything. Everybody will have a long time to talk about my career when it is over," said Hopkins. "It's been 50-50 for the last nine years. I've done what I had to do. I'm fine. Really, I'm fine."
He sure didn't look fine last night, and it well could be the last time we ever see the future Hall of Famer in the ring.
[via ESPN]