In the fall of 1989, Steve Williams broke into the wrestling business in the Dallas-based regional promotion World Class Championship Wrestling. He was 24 years old, with long, stringy blond hair and a build chiseled from a successful football career at Wharton County Junior College in Wharton, Texas where he attended on scholarship. The promoter had just booked him on a small town circuit tour to Louisiana, and he didn't know his way around the territory.
Unprompted, veteran referee Bronko Lubich and legendary heel wrestling manager Skandor Akbar walked up to Williams and asked a question that veterans often only doled out to select young guys they saw something in. Bronko was the territory's goto referee for three decades, and had seen Texas wrestling legends like the Von Erichs and Dusty Rhodes in their prime. Akbar was the leader of the heel stable Devastation Inc whose rotating ranks would later include a litany of demented wrestlers like Kamala the Ugandan, Cactus Jack Manson (a young Mick Foley), and Abdullah the Butcher, a wrestler who cut himself to bled in the ring so much, he could fit poker chips in the grooves of his forehead.  
"Kid, who you riding with?" Akbar asked.
"I ain't going to ride with anybody," Williams told them. After all, he didn't know anybody yet.
Their response: "Why don't you come with us?"
Stone Cold Steve Austin, the embodiment of the WWE's piss and vinegar fueled Attitude Era, has relayed this or some variation of this story on his podcast, The Steve Austin Show, countless times. The show averages 800,000 bi-weekly downloads—many fans are young wrestlers listening in for tips on how to tread wrestling's waters from the man considered by any metric to be the most successful professional wrestler of all time. For nearly three years, Austin has archived the folk history of professional wrestling, preserving stories and a niche heritage that might otherwise have gone undocumented.
Relaying stories of his own experience and the ones that have been told to him, Austin spins tales from his days paying dues, learning the business, figuring out how to live on the road, working the ring, and mastering its psychology. Austin credits his seamless transition into TheSteve Austin Show with his time learning to link the tempo of a good oral story with the cadence of a well laid out wrestling match.
"Learning psychology, when to do this and that in a match: when to hit the gas pedal, when to back off a little bit. You're trying to tell a story to that crowd," Austin tells Complex from his Texas ranch. "Maybe I'm going in to work this guy's neck, and maybe he set out to work my arm. And through the process of the match, you're telling a story in the ring every night…And it seems like the better storyteller you are, the more successful you are."
Young wrestlers can listen to Austin narrating a throwback period in wrestling history, when Vince McMahon and the WWE weren't the only place a wrestler could find a good paying job in America. The territory system that survived in one form or another until McMahon bought out its last competitor World Championship Wrestling (WCW) in 2001, was once the life's blood of the wrestling business.
"The territory system was a very unique time," commentator Jim Ross tells Complex. It's "what built the wrestling business. You had  all these different franchises, 25 to 30 of these territories, throughout North America. They all produced their own syndicated television show, they all had their separate crew of talent, their own roster of guys."
Now that the territory system that oriented Austin early in his career has been obliterated, these stories resonate even more because the institution most responsible for training and orienting young talent has long been dead. "You still have your independent scene but those guys aren't working five to seven nights a week like we were in WCW or in USWA," says Austin. "We were working six or seven times a week. You get good a lot faster when you doing something every single night."
Over the years, wrestling podcasts have dovetailed into an extension of the lingering tradition of storytelling that inexperienced wrestlers have come to rely on as a way to soak up the history of the business and to gain guidance. Austin's helps to fill in the gaps of navigating the business at a time when young wrestlers desperately need a mechanism to help them learn it.
Austin is quick to note that a podcast is no substitute for the real thing. "They (WWE) have NXT and FCW as a training camp in Orlando, but a training camp is a training camp, and it's world class," he says, "but when you're out there on the road slugging it out, and you got to make money, it seems to just pour into you in a more dynamic fashion."
"Donald's right hand guy was saying, 'No, no, no! You don't need to do this.' I mean, he's trying to talk him out of it. And Donald says to Vince, 'you think it'll help?'"
When WWE's recruiting pool hit an all-time low in the mid-2000s, McMahon began to rely on big names—celebrities and former popular stars—to buoy his signature wrestling event, WrestleMania, and cover up for a lack of talent and star power. In 2007, McMahon invited Austin and Donald Trump to be a part of WrestleMania 23 at Detroit's Ford Field in front of 80,000 fans.
Trump had gone on the WWE's flagship show Monday Night Raw to issue a challenge in a promo that would include what have now become classic tropes of his political persona: burying the media, comparing Rosie O'Donnell to a dog, and insulting his opponent while soaking in the admiration of rabidly cheering fans.
"I'm taller than you," Trump tells McMahon in the ring face to face. "I'm better looking than you. I think I'm stronger than you, and I am here to challenge you to a match at WrestleMania...One hundred percent, I would kick your ass."
McMahon suggests that they pick wrestlers to fight in their stead. Donald agrees. "You pick a representative, I pick a representative. If you lose, I get to shave your head. If I lose, you get to shave my head," Trump says. It was promoted as the main event of the evening, the "Battle of the Billionaires" in a Hair vs Hair match with Stone Cold Steve Austin as the special guest referee. Trump chose Bobby Lashley, who has since found success as the TNA wrestling champion, while McMahon decided to be in the corner of the "Samoan Bulldozer" Umaga (who passed away two years later).
By the end of the night, after Donald's boy had won and McMahon was shaved bald, Austin would leave with a story that no other wrestler could top, and one that he's never told in this much detail. 

"Vince says to me, 'Steve, I'm going to see if I can get Donald to take the Stunner,'" Austin recalls, referring to his signature finishing move, where he kicks an opponent in the gut then performs a sit-down jawbreaker. "I said, 'you think?' He says, 'Oh yeah, it'll be great, it'll be great.' He goes up to Donald and says, 'Hey Donald, this is Stone Cold Steve Austin.' I shook Donald's hand. He goes, 'Listen, I want to know if after the match, when everything is done, if Steve could hit the Stone Cold Stunner on you.' Donald says, 'You think it'd be a good thing?' and Vince goes, 'Oh, of course it would be. It would just blow the roof off the place.' And Donald's right hand guy was saying, 'No, no, no! You don't need to do this, we got other things to do!' He's trying to talk him out of it. And Donald says to Vince, 'You think it'll help?' and Vince goes, 'I promise you it'll help.' And Donald says, 'Okay, I'll do it.'
Austin pulled it off seamlessly, leaving Trump splayed on the mat, but it wasn't one of his best. "It wasn't a picture-perfect stunner," Austin says, "but I give Donald Trump a hell of a lot of credit for being a man. He was a stand-up guy, he was there to do business and we did business, so I respect the man for that. If I see him giving a speech on the TV, I don't think, 'Hey, I gave this guy a stunner.' We were doing business and we did business. The fact that he is going to be the next President of the United States, it's a hell of a story."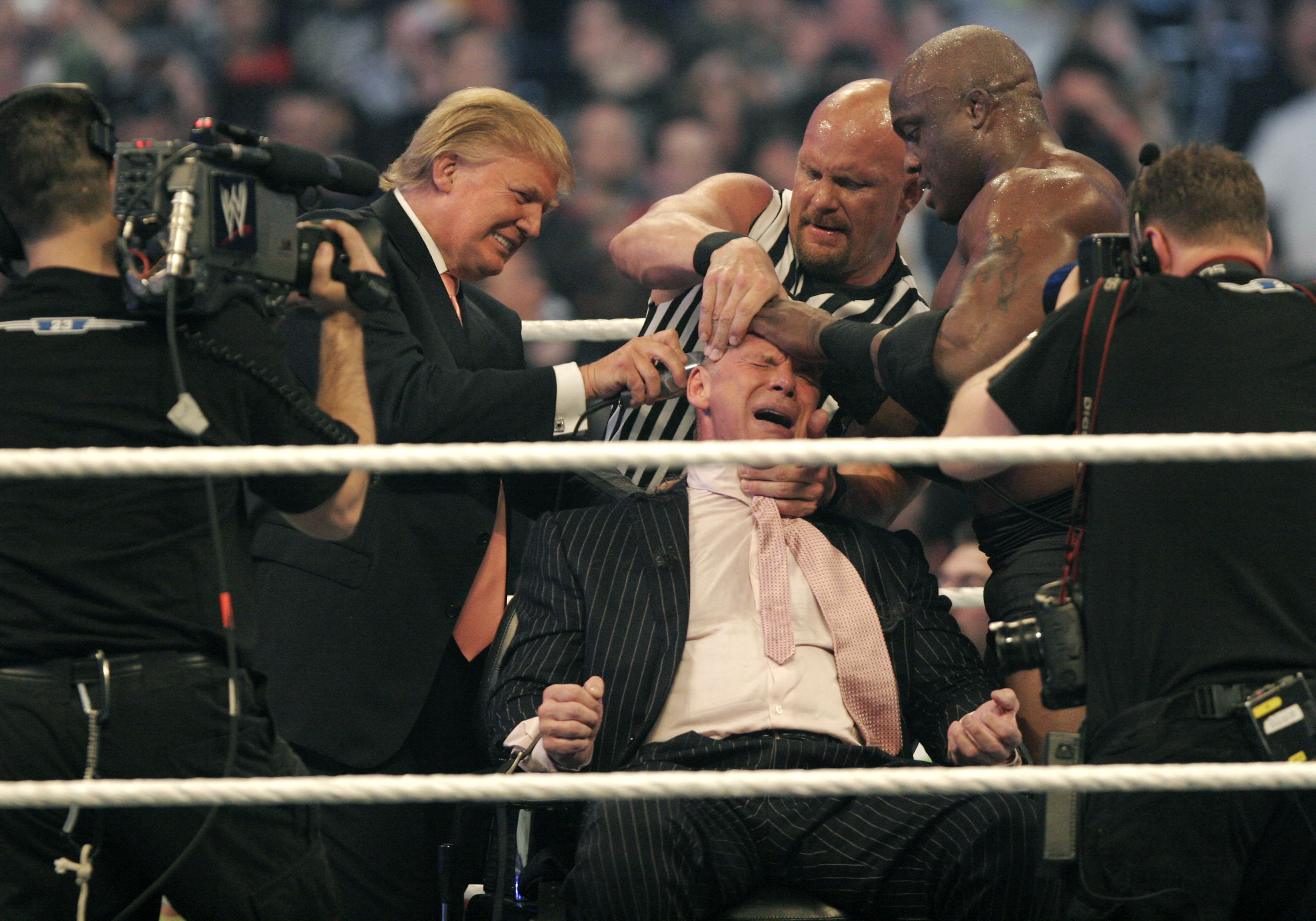 Austin believes it was listening to instructions by leaning on different histories from veterans and incorporating them into his wrestling bag that ultimately helped him realize the heights of becoming the best wrestler in the world and set himself apart.
It was on one of those trips, when Austin was still learning his craft and eight years away from Stone Cold, that he began to learn that his ability to achieve mastery in his craft and elevate to superstar status hinged upon how he spent his time getting to the next town after the show. As much as his success might require good ring work, sound training, or regimented performance techniques, he would have to learn to become a great storyteller. The ultimate purpose of riding and listening to old-timer's tales was to learn what's called good ring psychology, or effectively telling a story for maximum impact with the aim of inciting a crowd.
"When you come into the business, your green as grass, you just think, 'I'm gonna go out there and wrestle this guy, someone's gonna win and someone is going to lose," says Austin. "Then all of sudden, when you're traveling down the road, and you ask a guy, why did you do this when you did it?' And the guy will tell you why he did that."
Veterans relay the same fundamental message: "Storylines are key elements to selling tickets and drawing money," says Austin. "You can't just have two guys go out there and wrestle for no reason." He believes every storied rivalry should involve personal issues "because fighting one another to find out who is going to be the champion is one thing, but when you add a personal element to it, it ups the stakes and brings in the crowd."
"You can learn as much in the car as you can by watching the matches."
When WWE's former head writer, Vince Russo, talks about the Steve's ascension to the top, he notes that Austin was more involved building stories than your average talent.
"At the beginning [of his career], Steve was really a mid-card guy for a very, very long time. When he became Stone Cold, it went to a whole nother level. And I think somewhere in the back of Steve's mind was 'I can lose this as quickly as I got it.'"
Austin's understanding of the importance of storylines prompted him to eventually have a say over the direction of the Austin character. If McMahon or his creative team brought Austin an idea that he didn't like, or didn't fit in with elements of good storytelling, he would send the idea back.
"I think at times," Russo continued,  "he was a little bit paranoid, meaning he would look at everything we wrote with a fine-tooth comb to make sure [the story] was absolutely perfect...The beauty of it was, as time wore on, and there became more of a trust between performer and writer, we were really cooking on all four burners and that's how you create a good character."  
Austin says you can find clues to how good an in-ring worker a wrestler might be by his ability to tell a dynamic oral story.
"When I talk to Ric Flair, just sitting there and listening to him in a bar, it's is so engaging because he's such a great storyteller and so charismatic" Austin said. "It's like the late, great Dusty Rhodes when I would sit down and talk with him, and he would tell these stories, and the way he was with his inflections and his tone and his pauses, and the way he would speed up and slow his cadence, he would just rope you in. So, as far as telling a story in the ring, to me, seems like the best storytellers are some of the best workers in the business."
The knowledge necessary to become a successful wrestler can only be found in the experience, breath, and stories of old-timers, wrestlers and wrestling-minds that hold the responsibility of preparing worthy newcomers as custodians of the industry's rich and proud traditions. It is a long process, guarded behind a tradition of protecting trade secrets from outsiders, but those stories work as lessons that give student wrestlers a macro lens on how to navigate the business.
And if a wrestler shows enough in him to get a veteran to share what he knows, it takes three to five years, Austin says, to absorb all of the moving pieces and gain a good sensibility of what it takes to be a professional wrestler. "Some people absorb the information of people dropping stories or tips and they learn about the business, but it's all about time," Austin says.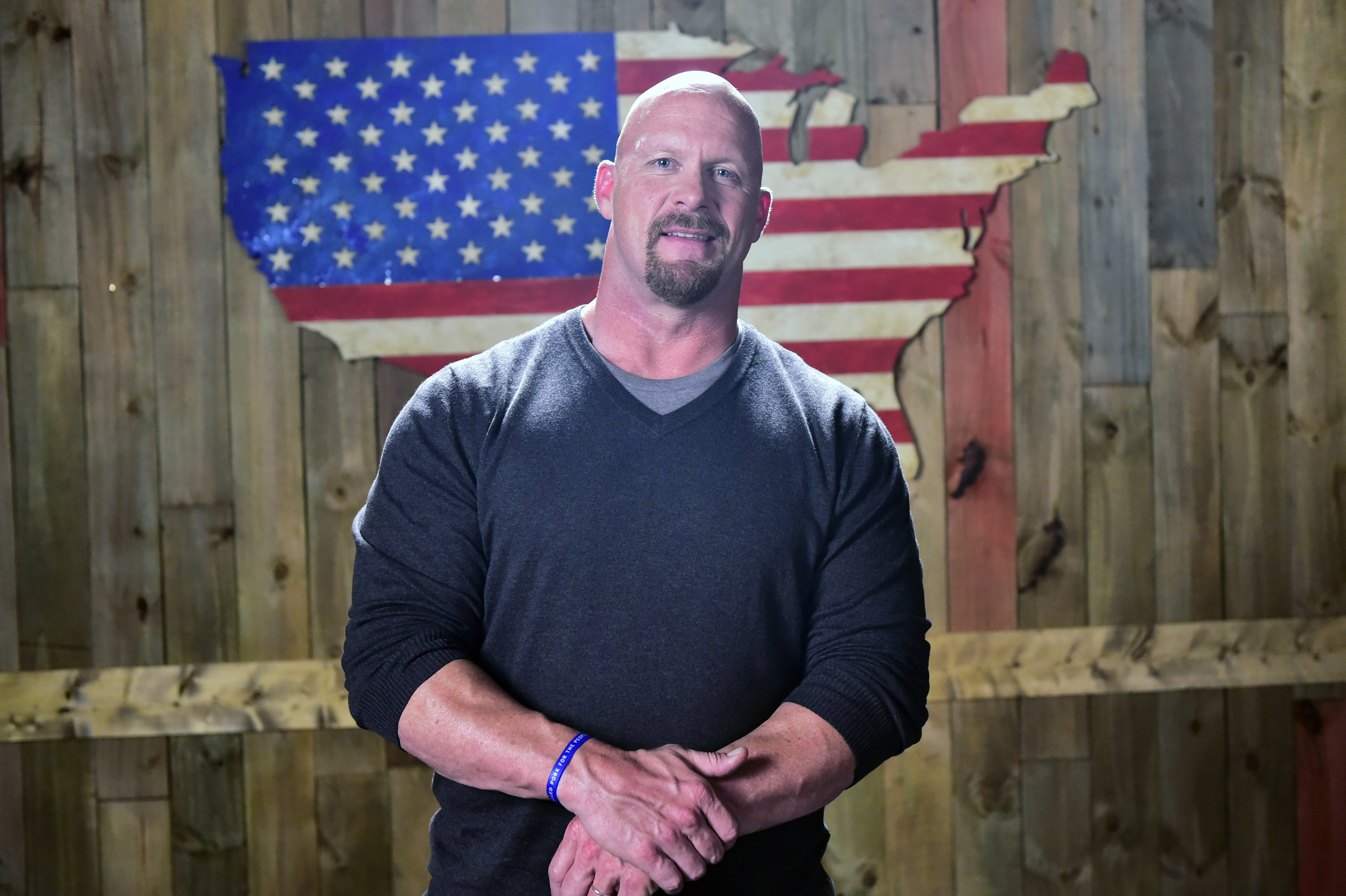 Much of Austin's success can be traced back to the lessons he learned in those early days, to that initial road trip he took with Lubich and Skandor.
"We went to Louisiana," Austin tells Complex, "and I listened to those guys tell me stories and smarten me up for 2,000 miles, there and back, and we wrestled about four or five shots in Louisiana."
He found himself in an Oldsmobile on his first long road trip as a pro-wrestler with two veterans who had 30 to 40 years of experience in the business and a trove of stories and Pro-Wrestling Beatitudes. Before they left Dallas, Austin learned Beatitude No. 1. Akbar turned around and he goes, "Kid, always save your money."
"That was something veterans would always drop on us green guys," Austin said.
He had wrestled his first professional match only months before accepting the invitation to climb into the backseat of Lubich's Delta Eighty-Eight. Months before that, he had spent a few weeks training at the Dallas Sportatorium under another legendary wrestler, "The Gentleman" Chris Adams.
Adams had trained Austin to be a good in-ring mechanic, proficient in the technical aspects of wrestling—collar-and-elbow tie ups, body slams, German-suplexes, how to take a bump on the mat by landing flat on your back—but failed to clue him in to the fact that pro wrestling was work, a simulated sport. He would have to learn the secrets of the business going up and down the road listening to veterans dropping hints on him.
"You can learn as much in the car as you can by watching the matches," Austin says.
"If you hadn't had the territory system in place," says Ross, "there would have been no pro-wrestling.The territory groomed people. It's like having great standup comedians. You only develop great stand-up comedians if they have multiple places to work on the road."
When the system started to fade, the business developed health issues as wrestlers lost more and more access to the knowledge. From the early part of his career, at the advice of veterans, Steve Austin watched every single match on the card. "That was a key moment of a veteran saying, hey, man, if you want to learn this stuff, this is how you do it," he says.
Austin's podcast helps to mitigate that lack of knowledge, but he encourages young wrestlers to apply what they hear on his podcasts with becoming a real student of the game, studying the best among them.
"When you start really watching what top guys are doing night after night and you listen to the crowd while they're working, and you put two and two together—the actions that they're doing, are making the crowd respond accordingly," says Austin. "When you sit there, watch, and listen, that's how you pick it up."