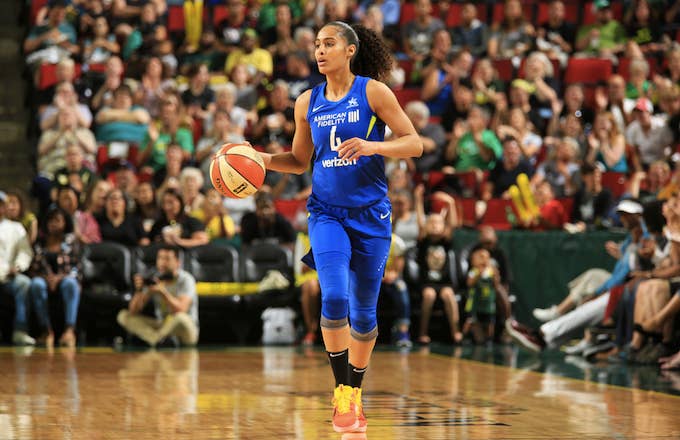 Skylar Diggins-Smith took to Twitter on Saturday to express her frustration with the WNBA and its mistreatment of athletes who are also mothers, herself included. She also revealed that she played the entire 2018 season while pregnant.
The Dallas Wings star addressed the backlash over her decision to sit out the 2019 season, which began shortly after she had given birth. The 29-year-old fired back at those who claimed she had given up on her team, and suggested some of that criticism came from within the WNBA. 
"Having no support from your own organization is unfortunate," she tweeted. "The blasts that disrespect of mothers (and our rights) in the WNBA is incredible. I can't wait until you hear my story FROM ME!"
Diggins-Smith went on to explain her absence from the court, stating she was suffering from postpartum depression and had very little resources to help her become game-ready.
The four-time All-Star said that she "didn't tell a soul" that she was pregnant during the 2018 season. It was a detail that underscored her commitment to the team as well as her love for the game.
Wings general manager Greg Bibb spoke about Diggins-Smith's place on the team during a Dallas Morning News interview back in August, insisting the team was not pressuring her to return.
"In terms of Skylar, that situation remains the same. It's 100% up to Skylar," he said. "We're going to support her and her timeline and when she says she's ready to go, we're going to welcome her back. Until she's ready to go, she needs to focus on getting herself healthy and getting her family situated and feeling good about all of that."
As suggested by her tweets, Diggins-Smith intends to shed more light on her issues with the WNBA.  According to Spotrac, Diggins-Smith is currently an unrestricted free-agent.