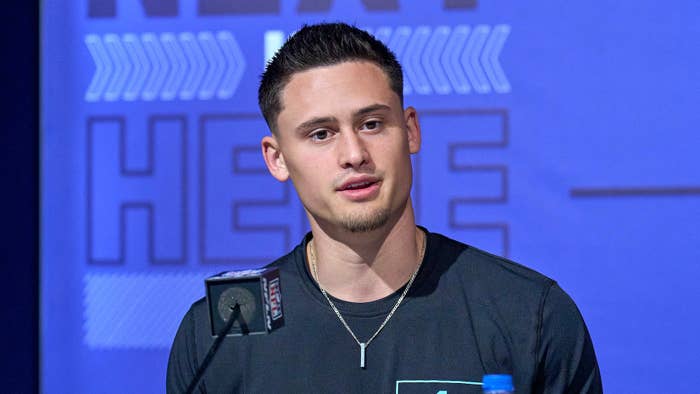 Former Buffalo Bills punter Matt Araiza is no longer the subject of a San Diego State University probe. The athlete's alma mater announced the decision on Friday, about 10 months after it began looking into rape allegations against the NFL free agent.
"While the university cannot provide specific information related to its student disciplinary proceedings and investigations, or specific information related to student records, it can confirm that none of the former students named in the civil suit are now the subject of an active investigation," SDSU said in a statement to ESPN. "In addition, they are not currently enrolled, active students or affiliated with any athletics activities. SDSU reserves the right to reinstate investigations based on new developments."
In 2022, a teen girl accused Araiza and two of his college teammates of raping her during an off-campus party in October 2021. The accuser, who was 17 and intoxicated at the time of the alleged assault, claimed Araiza had thrown her onto a bed and gang raped her along with SDSU students Zavier Leonard and Nowlin Ewaliko. 
The San Diego County District Attorney's Office declined to press criminal charges against the men, citing a lack of evidence in both its own investigation and another conducted by the local police department. The office said its probe included 35 witness interviews, DNA analysis, and nearly a dozen search warrants.
"Ultimately, prosecutors determined it is clear the evidence does not support the filing of criminal charges and there is no path to a potential criminal conviction," the DA announced last December, just several months after the accuser filed a civil complaint against Araiza, Leonard, and Ewaliko.
Araiza was released from the Bills just two days after the complaint was filed. The suit is set to go to trial this October. If he's ultimately found liable in the civil case, Araiza will not be subjected to NFL punishment, as the alleged incident took place before he was drafted last April.
According to ESPN, Araiza has submitted a claim against SDSU for damage to his reputation.
"I am aware that the facts of this case have been made public," Araiza told Pro Football Talk last week. "I am deeply gratified for the thorough work of the DA's office in San Diego and for all the witnesses that were willing to come forward and tell the truth. I am thankful that the facts of this case as provided by the witnesses will prove that what I have been saying from the beginning is, in fact, the truth. I can only hope that now people will assess me on the facts and not what was falsely claimed in both the civil suit and in the press."
He continued: "I am beyond thankful for the unwavering support of both my family and friends. They have been a rock in what has been a very dark eight months for me. However, now that the truth is out, I am amazed by the thousands of emails and tweets supporting me. It has truly been a blessing to know so many people have now judged me by the facts."