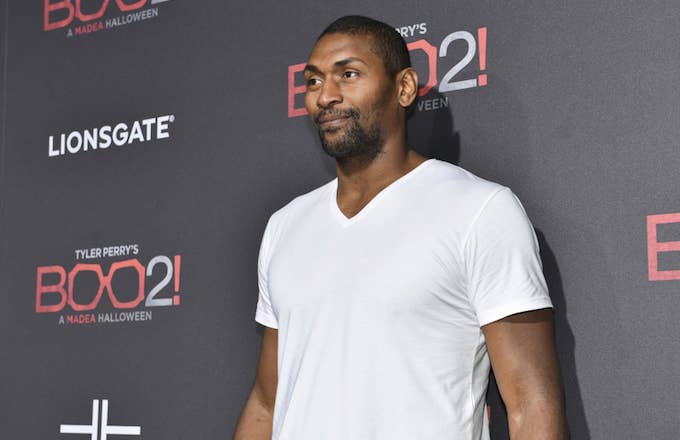 Will Metta World Peace return to the New York Knicks? The 38-year-old athlete seems to be all for it.
Just days after New York terminated head coach Jeff Hornacek, Metta—formerly known as Ron Artest—hit up Twitter to express his interest in the coveted position.
Metta inked a two-year deal with the Knicks in 2013; however, the team waived the NBA veteran less than a year later after buying out his contract. Though it was a short run, Metta said it was his childhood dream to play for the team.
"As a kid, New York was in my blood, and that was it. I got a chance to play for the Knicks, so it was cool, but it was towards the end of my career," he told Basketball Insiders in 2016. "It wasn't when I was the best defender and everything. But that was my goal, man: to bring a championship to New York City. It just didn't work out that way."  
On Thursday, it was reported that Hornacek was fired from his coaching position after finishing 60-104 in two seasons. The team's associate head coach, Kurt Rambis, was also let go.
"Jeff is a true professional who has worked tirelessly for this organization the last two seasons," Knicks President Steve Mills and General Manager Scott Perry​ said in a statement. "We sincerely appreciate his efforts and considerable contributions to the team and wish him well in his future endeavors."