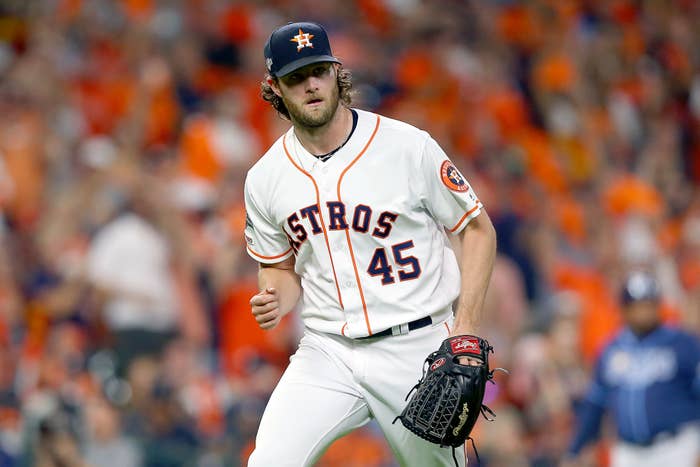 UPDATE 10/28, 10:03 a.m. ET: The two women who flashed Gerrit Cole have been banned from attending Major League Baseball events. 
Social media influencers and models, Julia Rose and Lauren Summer, work for SHAGMAG—a publication its co-founder Stephen McHugh described as "the millennial version of Playboy." Kayla Lauren, a fellow SHAGMAG representative who was with them, said the models were taken to police headquarters before being released, according to TMZ. 
McHugh tells Larry Brown Sports that Rose thought this would be a clever way to promote breast cancer awareness. The MLB didn't agree. The league sent Rose a letter that she posted on social media. In the memo, the MLB informed Rose that she was banned indefinitely.
See original story below.
Two women sitting behind home plate during Game 5 of the World Series appeared to flash Astros pitcher Gerrit Cole. And yes, the whole thing was caught on tape. 

But because this is a family-friendly site, we won't show you the highly NSFW video. We will however, show you some reactions!
According to one Twitter user, the women were escorted from the stadium. 
If their goal was to distract Cole, it didn't work. He went on to retire the side, and the Astros took a commanding 3-2 lead in the series. It's not looking good for the Nationals, but hey, they should look on the bright side. No more playoff games in Washington means that Donald Trump will never come to Nationals Park again—especially after what happened on Sunday.