If you follow Shannon Sharpe on Twitter, then you know that he has a thing for Nicole Murphy. He's been sending out tweets about her for months now.
He has also mentioned her on his FS1 show Undisputed a bunch of times. So many, in fact, that a fan put together a collection of clips that showed him name-dropping Murphy, which she then responded to on Twitter.
And it looks like all of Sharpe's thirsting after Murphy has finally paid off. On Saturday, he sent out yet another tweet about her and suggested he was going to slide into her DMs.
Then, he mentioned he had "something special" for everyone on Monday morning before signing off Twitter for the night on Sunday.
And as soon as Undisputed went on the air on Monday, Sharpe let the world in on what was so special about his weekend. He pulled out a box of backwoods, stuck one in his mouth, and started celebrating.
But he let Skip Bayless know his celebration didn't have anything to do with Skip's Cowboys losing. Instead, he showed off a photo of him and Murphy hanging out at what appears to be a gym.
There have been Sharpe fans who have been calling for this to happen for weeks now. They have been pleading with Murphy to give Sharpe a chance.
So obviously people were ecstatic to see Sharpe and Murphy together. They applauded Sharpe for shooting his shot—and swishing it.
But—and this is a pretty big but!—it seems a lot of people also just realized that Sharpe is actually engaged. Or at least, he was engaged the last time we checked. Sharpe has been dating fitness instructor Katy Kellner for quite some time now, and according to her Twitter bio, she is "fiancé to #84," which is Sharpe's old jersey number. Her tweets are protected, but all indications are that she's still engaged to Sharpe, as she has a photo of the couple up as her Twitter header.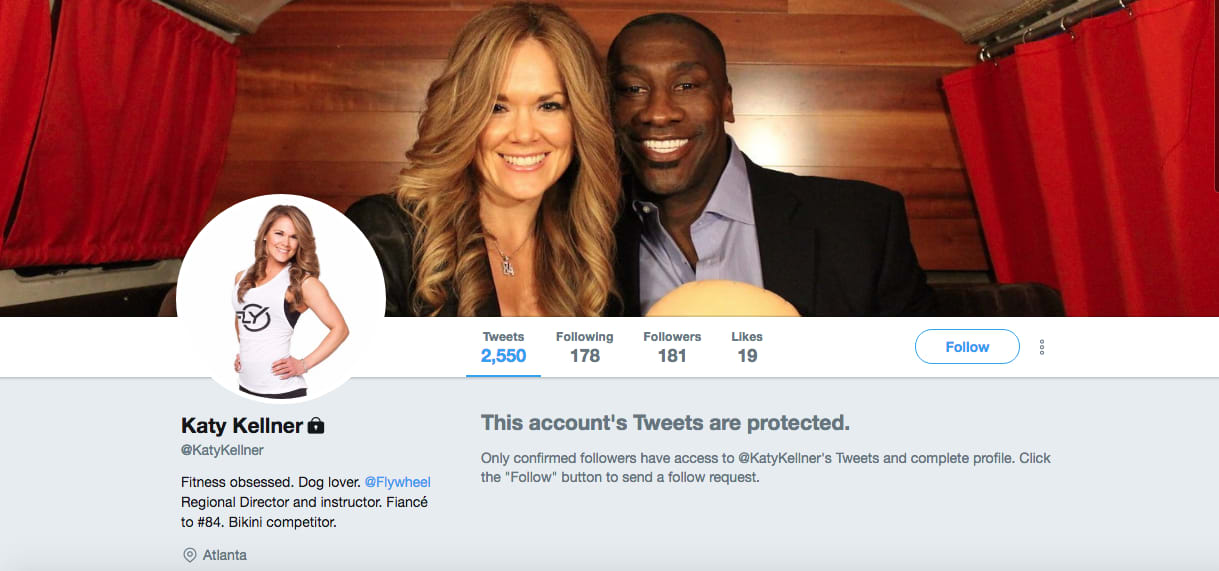 That's caused some people to wonder why Sharpe was going after Murphy so hard when he's already got a wife-to-be at home. Sharpe chasing after Murphy seems like it was all in good fun, but that hasn't stopped people from calling him out for it.
Whether you're mad at Sharpe for what he did here or not, there's no denying that he's injected some much-needed life into Undisputed in recent weeks. Between this and the time he pulled out his "Yac and Milds" on live TV, he's got a good thing going on over on FS1 right now.