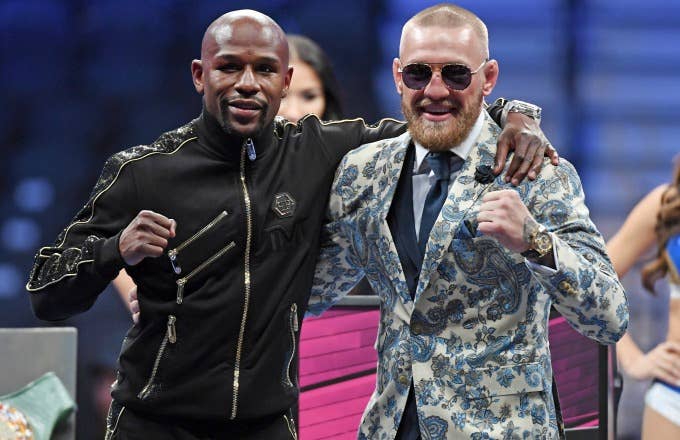 Did you illegally stream the Floyd Mayweather/Conor McGregor fight online on Saturday night, rather than shelling out $100 to watch it on pay-per-view? If so, we can't really say that we blame you. Even though the fight turned out to be a pretty entertaining affair, with McGregor lasting way longer than most people expected him to, it seemed like the match was going to be a relatively short one before it started. Paying $100 for it was out of the question for many, so you weren't alone if you decided to go the bootleg route.
According to Variety, around 3 million people streamed the fight illegally, using Facebook, YouTube, Periscope, Twitch, Kodi, and more to watch the fight as it was happening without paying a cent for it. Some people who streamed the fight illegally did so after running into issues with their PPV providers, which was a problem that plagued cable companies in several different parts of the country.
If you did decide to stream the fight illegally, you should know there might be repercussions. The Daily Mail and The Sunare both reporting that some streamers may have noticed a watermark with a bunch of random letters and numbers in it on their illegal feeds. While most viewers probably disregarded it, the site TorrentFreak—which specializes in file-sharing and copyright news—believes the letters and numbers might have been used to track down those who were illegally streaming the fight. It's unclear whether those letters and numbers, identified as "homing beacons" by TorrentFreak, came from cable providers or the illegal streaming sites themselves, but it appears as though someone was tracking some streams that were out there.
The good news—for those in the U.S., at least—is that it doesn't appear as though anyone was trying to track down people illegally streaming the fight in America. The UFC and other entities here in the U.S. were doing whatever they could to shut down the different sites that were streaming the fight illegally, but most of the reports of the mysterious watermarks came from the U.K., according to TorrentFreak.
It's worth pointing out that it seems like more and more cable companies around the world are being proactive when it comes to trying to shut down illegal PPV streams—and that could eventually mean that they might try to start making examples out of people who stream big events like the Mayweather/McGregor fight, both here in the U.S. and abroad. The Daily Mail reported that two Australian residents are facing a $60,000 fine and five years in prison right now after getting caught using Facebook Live to stream a recent fight between Danny Green and Anthony Mundine.
Will this stop people from illegally streaming boxing and UFC events? If this weekend is any indication, no. But it might make some people think twice before they watch an illegal stream in the future.