 Kurt Rambis got hacked. Or spammed. At least that what his employer is saying.  
A Knicks official issued a statement to the New York Daily News explaining how Rambis was not personally responsible for liking a NSFW image on Twitter Sunday that made waves on the interwebs. 
According to a Knicks official, however, Rambis was hacked and/or spammed. In addition to the pornography, Rambis' account showed that he liked a money-lending tweet that he did not, according to Jonathan Supranowitz, the team's VP of Public Relations.
While Rambis isn't following the risque account @ilike2touch_, he is still following @greatassdaily and @swe_girl which features a lot of nudity. Twenty-four hours later, you would think the Knicks would have cleaned up Rambis' account, but it appears damage control at Madison Square Garden moves slower than Robin Lopez running the break.  
Originally...
Poor Kurt Rambis just got his job as the Knicks' interim head coach. Now he has a losing record and a Twitter fail hanging over his head.
It's possible that Rambis' account was hacked at some point; after all, there's a link to a probable scam that precedes the following tweet. However, someone should tell Rambis, who's a coach in the NBA, that his most recent like is a tweet that says, "Love female masturbation." There's even a NSFW picture included.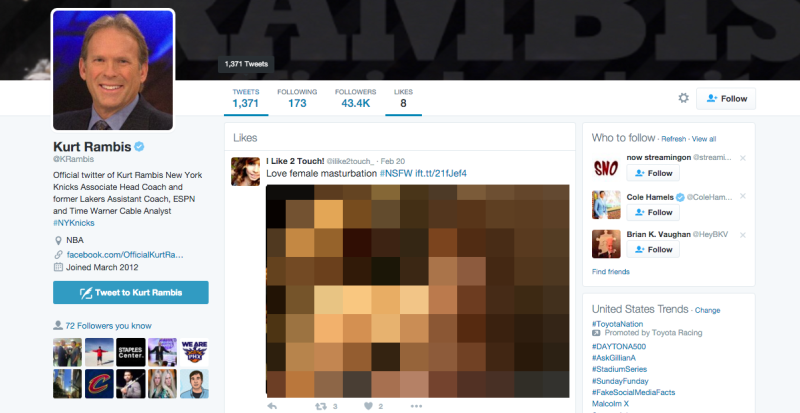 As of 4:18 p.m., it's still up and very NSFW on Rambis' Twitter. Hopefully he cleans up his likes soon. Let's work on his follows, too.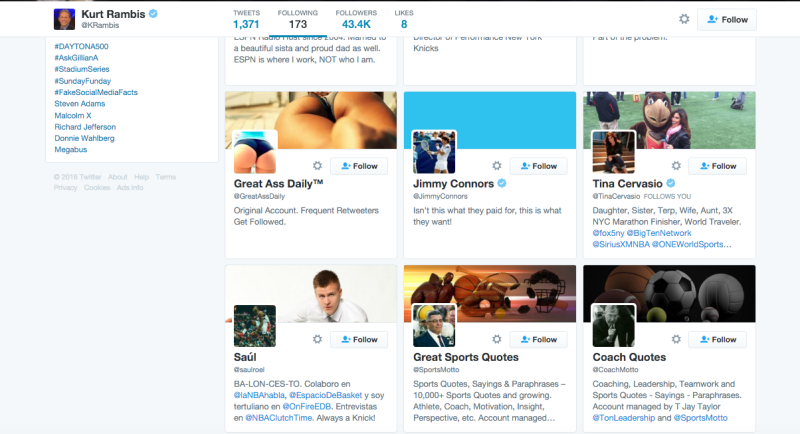 Send all complaints, compliments, and tips to sportstips@complex.com.