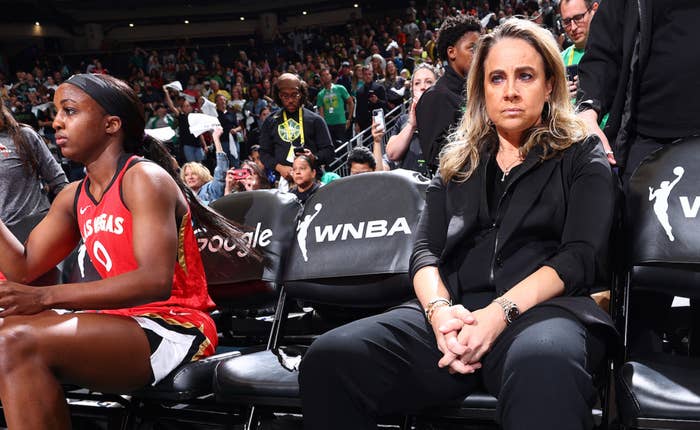 The WNBA has penalized the Las Vegas Aces organization after an investigation found the team violated workplace policies regarding comments made to a former pregnant Aces player.
In a statement released on Tuesday, the WNBA announced that the Aces will lose their 2025 first-round draft pick, while also suspending Becky Hammon for two games for "violating league rules regarding impermissible player benefits."
The league claims Hammon violated the WNBA's Respect in the Workplace rules in relation "to comments made by Hammon to Hamby in connection with Hamby's recent pregnancy."
Back in January, Hamby was traded to the Los Angeles Sparks while the two-time Sixth Player of the Year was pregnant with her son.
"Where in this decision does this team or any other team across the League learn the lesson that respect in the workplace is the highest standard and a player's dignity cannot be manipulated? Incidents of misconduct by a team staff cannot always be compared but recent penalties imposed by the League, and an honest view of the facts, demonstrate that this penalty is far from appropriate," the WNBA said in a statement. "While taking away a future draft pick is significant and had never been done in the League's history, it penalizes a future player by removing an opportunity to compete for a job."
At the time of the January trade, Hamby took to Instagram to thank the city of Las Vegas and Aces fans for their support, while revealing that she couldn't move on from "disgusting comments" made to her from an unidentified member of the Aces organization.
"With that being said, I am heartbroken. Being traded is a part of the business. Being lied to, bullied, manipulated, and discriminated against is not," she wrote.
Check out Dearicia Hamby's remarks below.