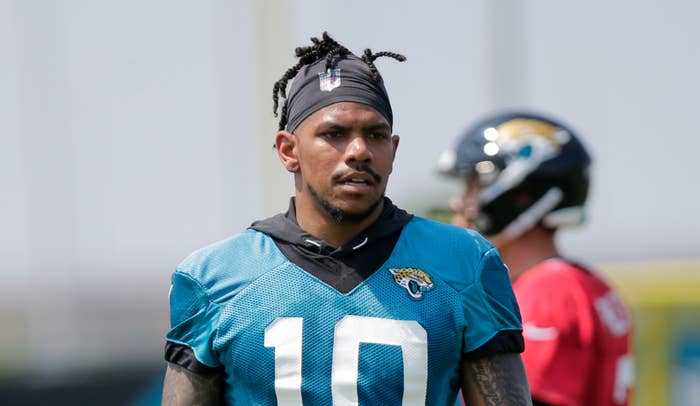 Former NFL quarterback Terrelle Pryor was arrested Wednesday for allegedly assaulting his girlfriend.
TMZ reports that Pryor, 32, has been charged with simple assault, harassment and criminal mischief following an altercation with Shalaya Briston, the same woman accused of stabbing Pryor in 2019 during another domestic incident.
According to the report, authorities were called to Pryor's home in Jeannette, Pennsylvania around 1 a.m. Wednesday after he allegedly shoved Briston, slapped her, and threw pumpkins at the windshield of her Mercedes Benz.
The former Ohio State standout was arraigned today and released on $100,000 unsecured bail. He faces a preliminary hearing on Oct. 19.
When spotted leaving a Westmoreland County courtroom on Wednesday, Pryor was stopped by a reporter, who asked him to address the accusations. "Nothing like that happened," he says in the below clip.
After a standout career at Ohio State, Pryor played seven years in the NFL with five different teams (Raiders, Browns, Redskins, Jets, Bills). Back in 2019, he was charged with simple assault following a domestic abuse with Briston. He was ordered to serve probation in that case after pleading guilty to a summary count of harassment.