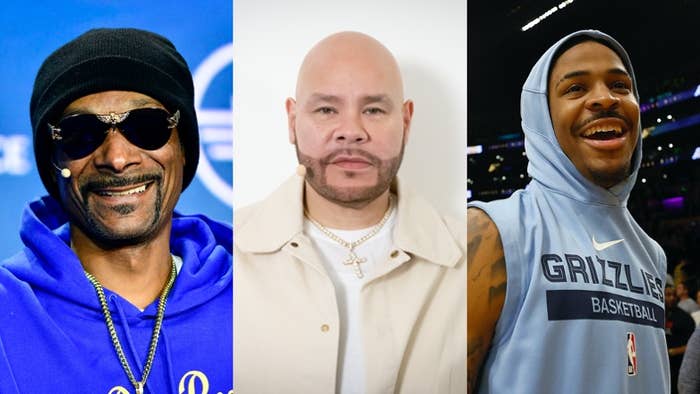 UPDATED 5/16, 9 p.m. ET: BlocBoy JB is the latest rapper to share their thoughts on Ja Morant's situation, as the Grizzlies star faces another suspension for flashing a gun on social media.
The Memphis rapper hopped on Instagram on Sunday to defend Ja, reminding critics of the All-Star guard that Ja has the right to bear arms.
"Guns are not illegal," BlocBoy wrote on his Instagram Stories. "If he turnt in his car with his gun dats in his name in his yard and somebody recorded him dat ain't on him. Free Ja."
See original story below.
Several high-profile figures in the hip-hop community are sharing their thoughts on Ja Morant facing another suspension for once again brandishing a gun on social media.
Over the weekend, the Memphis Grizzlies star, who back in March was suspended for eight games without pay after flashing a gun on Instagram Live, showed off what appeared to be another weapon during an Instagram Live session. 
Shortly after the clip went viral, the Grizzlies suspended Morant indefinitely.
"We are aware of the social media video involving Ja Morant," the organization said in a statement on Sunday. "He is suspended from all team activities pending League review. We have no further comment at this time."
Fat Joe hopped on Instagram on Sunday to offer some advice to Ja, as the Bronx rapper warned Morant that he needs to keep his circle tight.
"That man is trying hard to go play [in] Turkey or China or Serbia-Montenegro," Joe shared. "He's trying hard to get kicked out the NBA. And those guys that's with you? They not your peoples, Ja. They don't care!
"This is a problem we have with our community becoming famous because the people around you, they like the girls that's watching, they love the lifestyle — but they're not you! They didn't dribble the basketball in the snow on Christmas trying to figure out the Kobe moves or the Jordan moves. They didn't put in the work like you!
He continued: "And guess what? If you get thrown out of the NBA, these are the same guys who are gonna say, 'Yo, you wasn't shit anyway. It is what it is.' Ja, these are not your people! Anybody telling you or pointing you in the direction of ignorance is not with you!"
While Fat Joe focused on a helpful approach in support of Ja, Snoop Dogg poked fun at Morant's situation, sharing a clip from Usher's "Confessions Part II" music video where the R&B singer receives shocking news over the phone. "Ja Morant's agent on the phone this morning," Snoop captioned the clip.
The news arrives just a month after Morant sat down with ESPN's Jalen Rose to apologize for his actions in light of his first suspension.
"It's not who I am. I don't condone any type of violence, but I take full responsibility for my actions," Morant told Rose. "I made a bad mistake. I can see that the image I painted of myself with my recent mistakes, but in the future, I'ma show everybody who Ja really is, what I'm about, and change this narrative." 
Meanwhile, Barry Hefner said, "If rap music got a 23 year old $200 million man ready to lose it all, what you think it's doing to these kids that have nothing?"