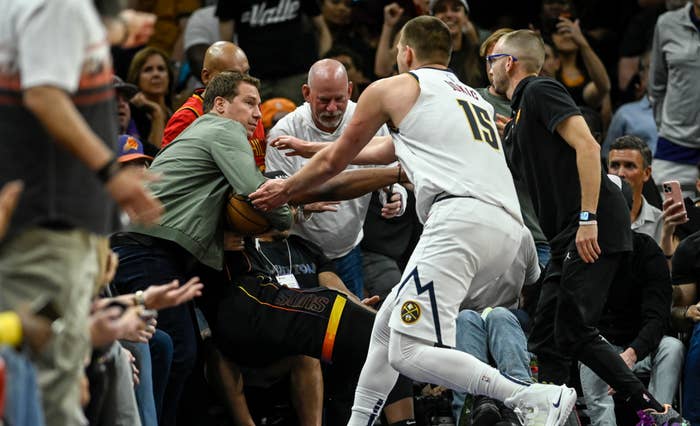 Phoenix Suns owner Mat Ishbia took to Twitter on Monday to share his thoughts about a confrontation between him and Denver Nuggets star Nikola Jokic.
The incident took place during the second quarter of Game 4 on Sunday, when Jokic appeared to elbow Ishbia while attempting to retrieve a loose ball out of bounds. 
Per his tweet, Ishbia doesn't believe Jokic, who received a technical foul after shoving the Suns owner, should be further disciplined for his actions. 
"Suspending or fining anyone over last night's incident would not be right," Ishbia wrote. "I have a lot of respect for Jokic and don't want to see anything like that."
While speaking to reporters during his post-game press conference, Jokic seemed unaware at first who Ishbia was, as the two-time MVP referred to the Suns owner as a fan.
"The fan put the hand on me first," Jokic said. "I thought the league was supposed to protect us. Maybe I am wrong."
When asked if he knows who Ishbia is, Jokic replied, "I know who he is, but he is a fan. Isn't he?"
Meanwhile, Nuggets head coach Michael Malone didn't shy away from saying Ishbia should be treated like a fan in this situation.
"(Jokic) is going to get the ball and some fan is holding on to the ball like he wants to be part of the game. Just give the ball up, man," he said. 
When told that said "fan" was in fact the Suns owner, Malone responded, "I don't give a shit."
Check out Malone's full reaction to Jokic's technical foul in the clip below.