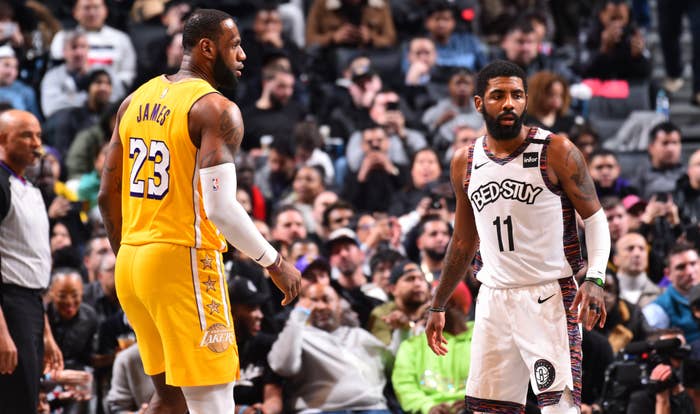 Back in June, the Brooklyn Nets granted Kyrie Irving permission to seek sign-and-trade offers from other teams, with the Los Angeles Lakers emerging as the the "most significant threat" to lure the All-Star point guard away from Brooklyn. 
However, it looks like the Lakers' interest in Kyrie has waned in the wake of his recent actions regarding an antisemitic film he promoted on social media. Irving was suspended last week by the Nets after failing to apologize for promoting the controversial documentary on Instagram and Twitter.
Sam Amick of The Athletic reports the Lakers now have "significant concerns about the prospect of adding Irving at any price and have not been focused on that scenario all season long."
"It's quite clear that Laker Land is a highly unlikely, if not impossible, landing spot," Amick wrote.
Kyrie sparked backlash last week after posting a link on social media for the documentary Hebrews to Negroes: Wake Up Black America, a 2018 film that focuses on antisemitic tropes, including claims that "many famous high-ranking Jews have admitted to worship[ing] Satan or Lucifer."
After suspending Kyrie last week, the Nets said the point guard will need to meet a "series of objective remedial measures that address the harmful impact of his conduct" before he can return to the team. His suspension will last for at least five games.
Elsewhere in Amick's report, several NBA general managers shared their thoughts on Kyrie's future in the league.
"He's the opposite of a commodity, which is what you want a player who's getting paid that much to be," one general manager said. Another front office executive revealed Kyrie "might not play in the NBA again."
"It's gonna be one-year deals from here on out (for Irving)," another NBA insider said.