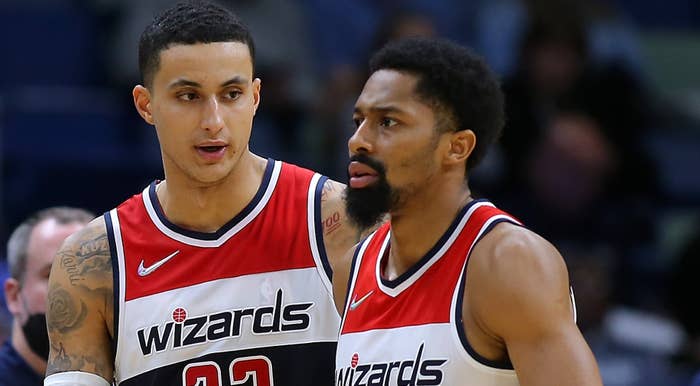 Former Washington Wizards teammates Kyle Kuzma and Spencer Dinwiddie are trading shots on social media after the latter accused the former of being more focused on fame than winning basketball games.
Dinwiddie, who was traded from the Dallas Mavericks to the Brooklyn Nets in February, appeared on Michelle Beadle's FanDuel TV NBA show Run It Back on Wednesday, and shared his thoughts on Kuzma. 
"There's a lot of guys in the NBA that really pour there heart and soul into basketball," Dinwiddie said. "There are a lot of guys who have different things that drive and motivate them. If we look at him [Kuzma] and the way he approaches life, fame, all that stuff, we can see that his priorities tend to vary."
Dinwiddie added, "You know that you're there shooting shots to try to get a contract. You're probably not even a third star really on a good team, because if you were the Lakers probably would have kept you."
As soon as Kuzma caught wind of Dinwiddie's comments, the Wizards forward hopped on Twitter to share a thread in which he ripped him apart for often getting traded, as well as not making as much money as Kuzma, among other things.
"The Wizards and I have so much real estate on Dinshittie island," Kuz began. "This guy got signed by a team [$60 million contract] and was traded before the season was over."
Kuz continued, "What in the world have you won in this league? Lol you've been bounced around like a basketball my boy."
After blasting Dinwiddie's per-game averages while Kuz played with him in Washington, Kuzma ended his rant by saying the "only way" Spencer will ever be worth his contract is if the NBA begins paying its players in crypto currency.
Check out Kuzma's full thread below.