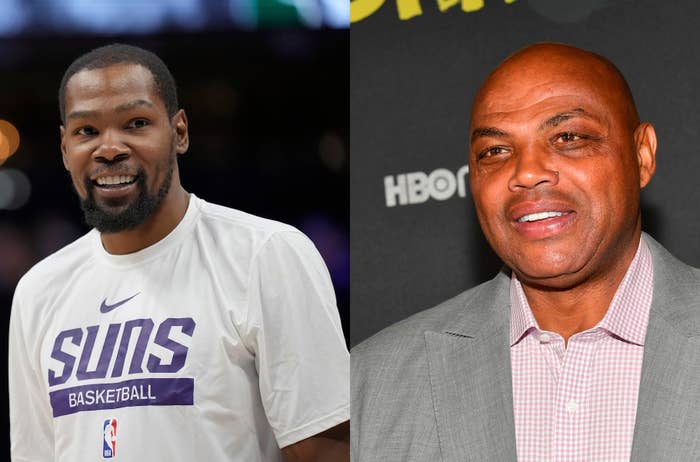 On Monday's episode of ESPN's First Take, Charles Barkley shared his thoughts on Kevin Durant's recent trade to Phoenix, where the two-time NBA champion hopes to win his third title.
According to Barkley, KD, who won his first two championships alongside Steph Curry with the Golden State Warriors, needs a third ring to cement his status with all-time greats like LeBron James and Kobe Bryant.
"LeBron said, 'I had to win a championship without D-Wade to get old heads' respect,'" Barkley explained on First Take. "Kobe Bryant said, 'I have to win a championship without Shaq to get these old heads off my back.' I hold Kevin Durant to the same criteria."
Ever present on Twitter, it didn't take long before Durant hopped on the platform to respond to Barkley, as KD maintained that he wasn't aware LeBron made such comments regarding his ring count.
"I don't remember bron saying this…somebody link me to the article," KD wrote.
Earlier this month, following a tumultuous tenure in Brooklyn, the Nets traded Durant and T.J. Warren to the Suns as part of a deal that saw Brooklyn receive Cam Johnson, Mikal Bridges, Jae Crowder, four first-round picks, and a 2028 pick swap.
Durant, who's been sidelined since Jan. 8 after suffering an MCL sprain, is expected to make his Suns debut Wednesday against the Charlotte Hornets.
"He's itching to get out there," Phoenix head coach coach Monty Williams told reporters on Monday.