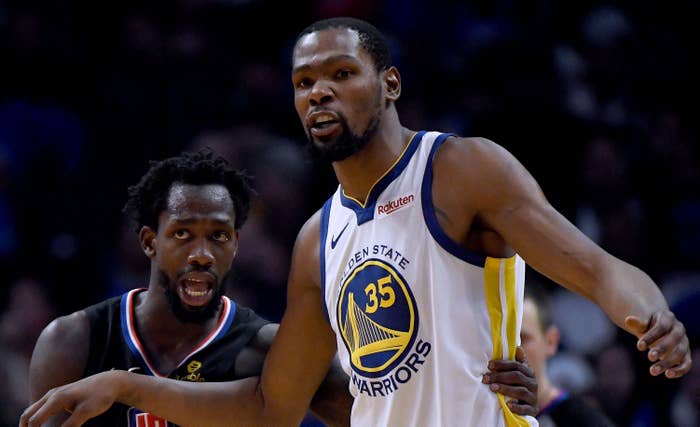 Fresh off of rippingChris Paul for the Suns' Game 7 blowout loss, Patrick Beverley returned to ESPN's Get Up on Tuesday morning to unleash more criticism about his peers, this time questioning if the Brooklyn Nets have what it takes to win a title.
"Can they bring a title to Brooklyn? They need a lot of help...three really good teams that's gonna be in Eastern Conference next year for sure," Beverley said.
It didn't take long for Kevin Durant to catch wind of Beverley's comments. The Nets superstar took to Twitter on Tuesday to indirectly address the Timberwolves guard's bold take, sharing a classic Kanye West tweet that read, "He running around like Pac."
After a few Twitter users mentioned Beverley in the comments, with one follower writing, "lol role players talking like All-Stars," KD replied, "These guys need to stop."
The aforementioned Kanye tweet dates back to December 2018, when West unleashed a series of tweets aimed at Drake. The tweetstorm, which occurred after Drake took subliminal shots at Kanye in Travis Scott's "Sicko Mode" and French Montana's "No Stylist," saw Ye accuse Drake of threatening him and his family. 
Subsequently, Kanye suggested Drake was "running around" recklessly, like the late 2Pac.
As for KD and Beverley, Durant isn't the first player who's called out the polarizing guard in the wake of his comments about Chris Paul's dismal performance in Phoenix's Game 7 loss to the Dallas Mavs. 
Damian Lillard hopped on Twitter on Monday to respond to Pat's comments about Chris.
"Bra on TV acting like his word law," he wrote. "Speaking on private convos and praying on mfs downfall. This weird behavior smh." He also addressed someone bringing up Pat's stats with the claim his "stats aren't bad." 
"Cuz nobody guarding this man," Lillard replied.
Check out Lillard's tweets below.