Kanye Says Drake 'Threatened' Him: 'I'm the Guy With the Pink Polo That Made a Way'
Kanye: "Drake, if anything happens to me, or anyone from my family, you are the first suspect So cut the tough talk."
Getty
NEW YORK, NY - DECEMBER 03: Kanye West poses at the opening night of the new musical 'The Cher Show' on Broadway at The Neil Simon Theatre on December 3, 2018 in New York City. (Photo by Bruce Glikas/Bruce Glikas/FilmMagic)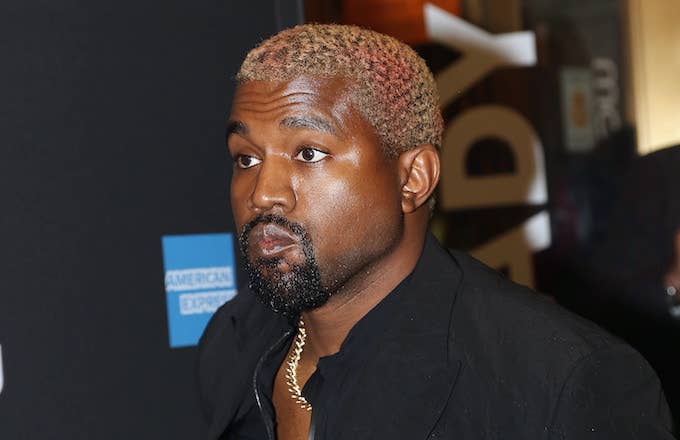 You pick@on people with mental health issues
Kanye didn't specify the nature of the alleged threat, but he suggested it was pretty serious. The G.O.O.D. Music boss wrote that Drizzy will be the "first suspect" if anything happens to him or his family. Yikes.
When I go through shit he fucks with me and I'm his idol
If I'm bipolar This kind of shit can get me ramped
The Twitter attack was all over the place. Kanye claimed Drake has had it out for him for him since the release of "Summer Sixteen," in which Drake raps: "Now I got a house in L.A., now I got a bigger pool than 'Ye."
We both too high profile for you to actually do something to me
Kanye reiterated his claims that Drake was behind the attack at Pusha-T's recent concert in Toronto. Police said one man was stabbed during the incident and sustained life-threatening injuries.
Kanye went on to accuse Drake of trying to be a bully—not only to him, but to other people who struggle with mental health, like Kid Cudi.
'Ye also claimed he paved the way for Drake, and that "that there would never be a Drake without a Kanye West."
Oh, and he's also still pressed about Drake's Yeezy Boost 350s line in "No Stylist" where Drizzy raps, "Yeah, keepin' it G, I told her 'don't wear no 350s 'round me.'"
Kanye wrote Drake has refused to have a face-to-face conversation with him, and instead has tried to communicate through third parties like Kris Jenner, Scooter Braun, and J. Prince.
Though he's clearly feeling some type of way toward Drake, Kanye says he will never allow the situation to turn physical.
After accusing Drake of bullying and playing a role in a near-fatal concert brawl, Kanye told his former friend that he still had love for him.