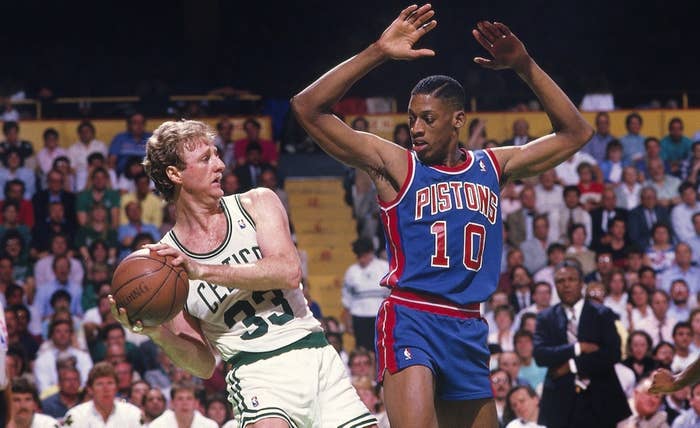 Dennis Rodman doesn't believe Larry Bird would excel in today's NBA.
During an inteview with VladTV, the five-time NBA champion, who won titles with the Detroit Pistons in 1989 and 1990 before joining forces with Michael Jordan and Scottie Pippen to anchor the Chicago Bulls' final three-peat in the '90s, was asked to share his thoughts on Gilbert Arenas recently saying Larry Bird would beat LeBron James in a game of one-on-one.
"Should I leave? What?" Rodman exclaimed regarding Arenas' take. "Okay, I'll put it this way. If Larry Bird played in this era, I think he'd be in Europe. I'm just letting you know, man. He'd be somewhere over there."
Rodman continued by saying that though Bird was great in the '80s, he wouldn't be the same player in today's era, adding that Finals MVP Nikola Jokić is superior to Bird.
"His game was fit for Boston at that time, in the '80s and stuff like that. But in today's world? Oh, hell no." Dennis shared. "There's no way. I'm not downplaying him, because he's a great player at that time, just like I was, but no. There's no way. I think the kid from Denver is way better than him."
It's worth noting that Rodman, as a key member of the "Bad Boy" Pistons, faced off several times in the NBA Playoffs against Bird's Celtics. After losing to Boston in the Eastern Conference finals in 1987, the Bad Boys returned the favor by ousting the Celtics in the 1988 and 1989 Eastern Conference finals. Rodman would win back-to-back titles with the Pistons in '89 and '90 before winning another three with Chicago from 1996–1998.