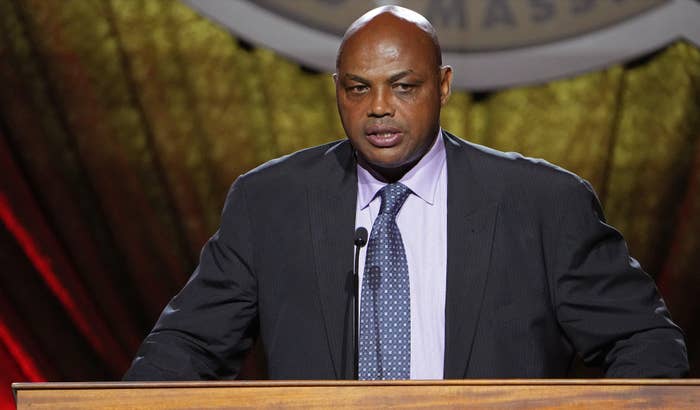 Charles Barkley is calling out Kendrick Perkins for suggesting NBA MVP voters are racially biased.
In an interview with 92.5 FM Altitude Sports Radio, Barkley ripped Perkins for tainting this year's MVP race, which sees Serbian reigning two-time MVP Nikola Jokić looking to win his third straight award.
"That's asinine and silly. Asinine, silly, and stupid. Pick one of the words, whatever one you want," Barkley said of Perkins' take, which he also called "one of the stupidest things I've ever heard," in the clip below.
The 60-year-old went on to say, "I always talk about ESPN disease. A lot of these guys, when they get on TV and stuff, they're like, 'Well I'm on ESPN, I gotta say something provocative.' And you know the thing about it, you're always gonna get some fools out there, you guys probably got some fools calling in agreeing with him. I can promise you this, I've never said anything on television just to get clicks—that don't mean I've been right or wrong, whatever. … We can talk about race as much as you want to as long as you're going to be fair and honest. But to slander this man [Jokić] in this situation is just total BS."
Barkley's comments arrive after Perkins responded when former NBA player JJ Redick blasted the ESPN talking head for his comments on the NBA MVP race.
Perk and Redick were involved in a heated debate on Tuesday's episode of ESPN's First Take. Redick ripped Perkins for bringing race into this year's MVP discussion.
"Stephen A. [Smith], I mean no offense to you and I mean no offense to First Take. Because I think this show is extremely valuable. It is an honor to be on this desk every day, it really is. But what we've just witnessed is the problem with this show," Redick started. "Where we create narratives that do not exist in reality."
He continued, "The implication, what you are implying, that the white voters that vote on NBA [awards] are racist. That they favor white people."
When Perkins pushed back, Redick cut him off, saying, "You just said that. Yes, you did. … That is exactly what you implied."
Perkins made headlines last week when suggesting MVP voters harbor racial biases. The former NBA center brought up the fact that Dirk Nowitzki, Steve Nash, and Jokić—all white players—are the only MVP winners since 1990 to have gotten the award without finishing in the top 10 in league scoring.
Following Tuesday's show, Perkins hopped on Twitter and ripped those who've criticized him for his remarks. Kendrick first went after former NBA coach George Karl, who questioned the ESPN commentator's words.
"Do you of all people want to go there today," Perkins said. "Because I definitely have time homeboy. YOU most definitely have a few Skeletons in your damn closet."
Perk added in another tweet, "Last year I was a c**n. This year I'm a racist. Well damn, which one is it? IT'S NEITHER. I call out facts and not afraid to address the elephant in the room."