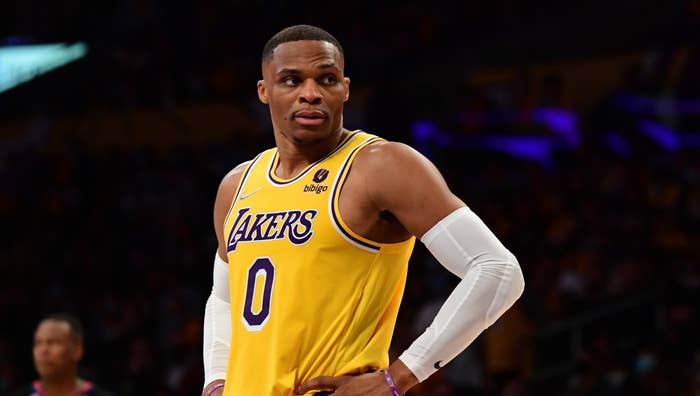 Russell Westbrook is reportedly poised to stick with the Los Angeles Lakers for the 2022-2023 season.
As first reported by ESPN's Adrian Wojnarowski, sources familiar with the situation said that Westbrook plans to exercise his $47.1 million option to stay with the Lakers for at least the 2022-2023 season. The nine-time All-Star and 2017 MVP will complete his five-year, $206 million contract following the conclusion of the next season.
Ever since he was traded to the Houston Rockets in July, 2019, Westbrook has played one season with the Rockets, the Washington Wizards, and the Lakers.
While Westbrook has yet to comment on the situation, he did share a video of him singing along to Beyoncé's "Break My Soul" on Tuesday. Maybe it's his way of celebrating a significant payday.
Last week, Westbrook hit back against Skip Bayless trolling him on Twitter by referring to him as "Westbrick." "Yoooo… watch your mouth. Don't say anything here you wouldn't say to my face," Westbrook tweeted. The former MVP has faced heavy criticism for his play since coming to the Lakers, especially after the team failed to make the playoffs.
Despite the criticism, new Lakers head coach Darvin Ham was accompanied by Westbrook at his introductory press conference earlier this month, during which he praised him as "one of the best players our league has ever seen."