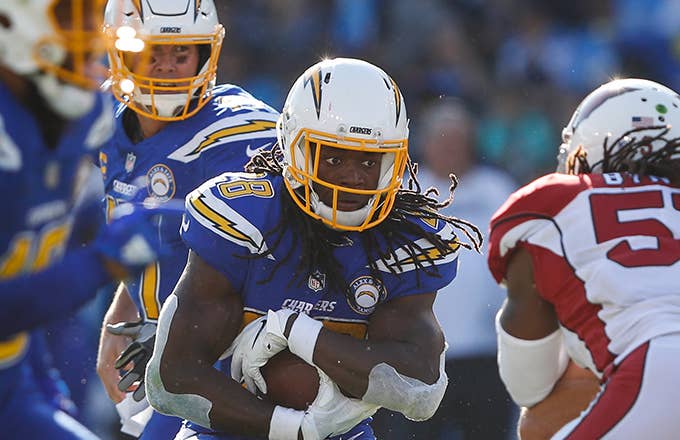 Los Angeles Chargers running back Melvin Gordon is in limbo right now. Earlier this month, it was reported that he would not report to training camp and would demand a trade if he didn't receive a new contract, with Gordon believing that he's worth more than what he's currently making with the team. However, in a conversation with the Los Angeles Times, Chargers quarterback Philip Rivers has implied that Gordon isn't as irreplaceable as he thinks he is.
When asked about the work the team's second and third running backs will have to put in, Rivers said, "They're going to get a lot of work." He continued, "It certainly is a deep position for us, and those guys all love to play and work hard. We love Melvin, but we're going to go with what we've got. It's a pretty dang good group."
Earlier this week, Chargers opened training camp without Gordon and left tackle Russell Okung. Kansas City Chiefs safety Tyrann Mathieu, who was released by the St. Louis Cardinals in 2018 after he refused to take a pay cut, responded to an article about Rivers' comments. "DAMN," he wrote. Gordon quote-tweeted with a response of his own," Wild right !!" 
It remains to be seen what Gordon has planned for his future, but earlier this week, Chargers general manager Tom Telesco made it clear that he wants Gordon to stick around. "I love Melvin Gordon," Telesco said. "He's an excellent player. He's tough. He has a great work ethic and represents our organization extremely well. But he's not here. I understand his thoughts and opinions of what he's going through. I always look at the player's side, so I can see it. It doesn't mean I agree with it, but I can kind of see what his thought process is."
Telesco added, "My only thought process is he's playing here. He's an L.A. Charger." He also insisted that he knows the team is "better with Melvin Gordon."