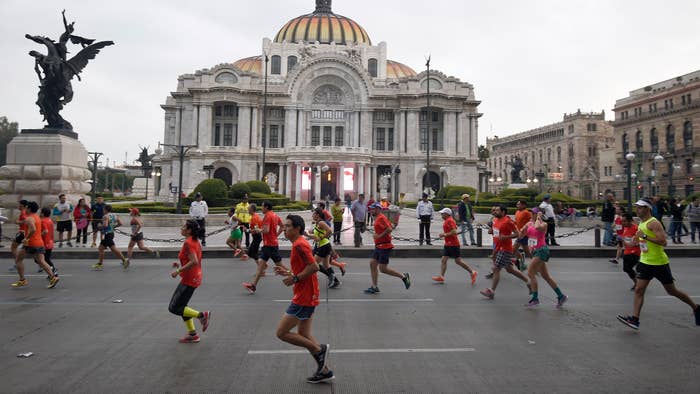 Organizers of the 2023 Mexico City Marathon have disqualified roughly 11,000 runners after they were found to have cheated through the use of bikes, cars, or public transport.
As reported by Reuters, an investigation into cheating accusations in the Aug. 27 marathon found that approximately just over a third of its 30,000 participants had cut sections of the course through other modes of transport. The disqualified runners did not make it through several checkpoints placed throughout the race, which is a course over 26 miles in length.
"The Mexico City Sports Institute informs that it will proceed to identify those cases in which participants of the XL Mexico City Marathon Telcel 2023 have demonstrated an unsportsmanlike attitude during the event and will invalidate their registration times," said the marathon's organizers in a statement released on Wednesday, Sept. 6. "This great event not only represents an outstanding celebration for all the inhabitants of the capital, but also an occasion to reaffirm the transcendental values of sport."
As reported by The New York Times, marathon organizers The Sports Institute of Mexico City issued a statement last week announcing its investigation into accusations of cheating. They wrote that they were working to "identify those cases in which the participants" of the race "would have demonstrated an unsportsmanlike attitude during the event and will invalidate their recorded times."
Organizers have been forced to disqualify a high number of runners in the past. In 2018, around 3,090 runners were disqualified for course cutting or crossing the finish line without completing the full course, while in 2017 there were 5,806 disqualifications. The marathon is one of the 38 races in 2023 to hold the classification of the World Athletics Gold Label, indicating they met the requirements of management and course design expected by the organization.