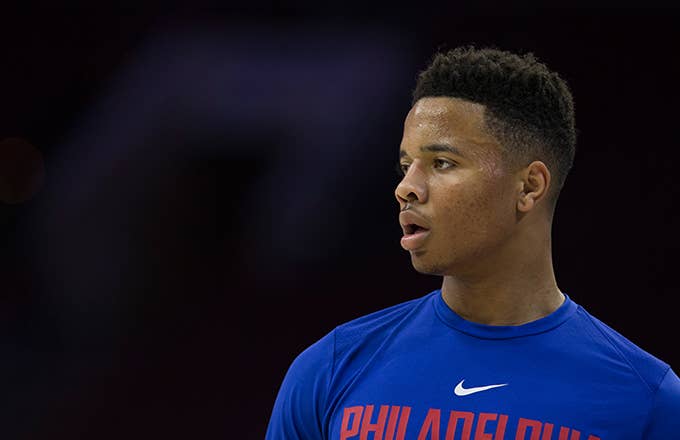 Late last night, Markelle Fultz sent out a tweet that had Philadelphia 76ers fans confused. Taking to social media, he tweeted, "You really can't trust NO ONE !!" He also posted an Instagram story with no image and just a single line of text reading, "Nobody call or text me." Fan reactions on Twitter in particular ranged from worried to amused, with many taking the chance to critique his shooting form.
It's now his pinned tweet, too, right above a couple retweets of him draining a full-court shot backwards.
Back in October, the 76ers announced that Fultz would be out indefinitely following soreness and scapular muscle imbalance in his right shoulder. The former No. 1 overall pick rookie hasn't played in a game since Oct. 23, but there have been persisent rumors he'd play again soon. There's been debate online regarding whether he's recovered from his injury or not, although a recent video of Fultz practicing has left fans doubtful he'll be playing again in the near future.
With his shooting form looking a little shaky, especially compared to previous videos of him nailing shots like nobody's business that have made the rounds.
Hopefully Fultz figures out what's going on and gets it sorted soon, because it was clear he had a bright future until the shoulder injury took him out of the game for a while.