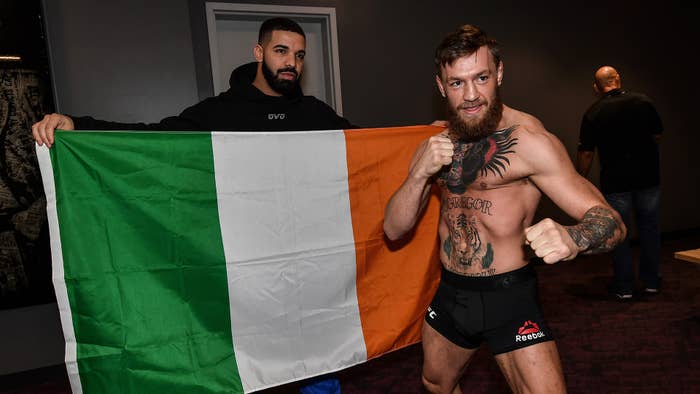 During a recent appearance on the Full Send podcast, Khabib Nurmagomedov revealed he had no clue who Drake was when he showed up at the UFC 229 weigh-in alongside Conor McGregor.
Ahead of Nurmagomedov and McGregor's fight in October 2018, Drizzy showed up to support the Irish MMA fighter at the weigh-in. Speaking with the hosts of the Full Send podcast, Nurmagomedov was asked what music he listens to and the name Drake popped up.
"Honestly, I swear I don't even [know who Drake was]… Before when he was on the corner of Conor [McGregor], people said this guy is very famous. I swear I didn't know this guy," he said at the 34:30 mark of the podcast, as seen in the clip below. "I don't know this guy like they say. Maybe I hear his music somewhere in street or something but I didn't know this guy."
Asked if he listens to any rap music at all, he admitted that he's a fan of Eminem, 50 Cent, DMX, and 2Pac. 
This is the first time Nurmagomedov has mentioned Drake by name, but the Canadian rapper has long been friends with McGregor. In fact, the Irish fighter first revealed in 2016 that he was a "big fan" of Drake, later sharing a photo of them together. In 2017, McGregor also said that Drizzy played a hand in getting him to sign a contract with Beats By Dre.
According to British tabloid the Sun, McGregor attended the album launch party for Drake's Certified Lover Boy last year.