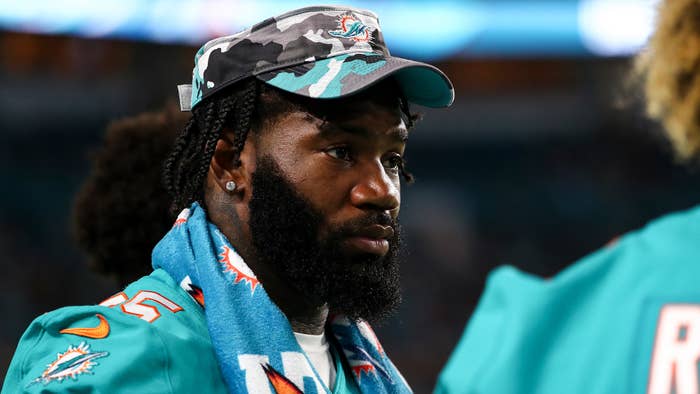 Miami Dolphins cornerback Xavien Howard has been accused of secretly filming sexual videos and later sharing them in a lawsuit filed against him.
As first reported by Andy Slater of Fox Sports 640, Howard was recently hit with a lawsuit that accuses him of secretly filming his sexual encounters and sharing them with others. It is unclear what damages the anonymous woman who is suing him is seeking.
Slater also pointed out a video shows an unrelated incident earlier this year in which a woman gained access to his community and smashed up his Bentley with a baseball bat. She was later apprehended by law enforcement.
Howard's lawyer Brad Sohn denied the allegations against his client. "This lawsuit is a dead loser," he told Slater. "Period, full stop. We will be seeking dismissal on legal several deficiencies on Monday but in terms of the substance of the case there is just no merit to it."
Last year, Howard was sued by an anonymous woman who accused him of knowingly giving her a sexually transmitted disease. As ESPN reported, the lawsuit states that the pair met in February 2018. They went on a date and he provided her with a copy of negative STD results of a recent test. He supposedly contracted the undisclosed STD the following year and did not inform her about it despite continuing their sexual relationship.
She tested positive in March 2021 and said that Howard was the "only individual who could have transmitted" the STD to her. The lawsuit accuses Howard of initially denying the accusations but later coming clean. She is seeking damages of at least $30,000. Per a statement released by Sohn in March, the lawsuit has since been dropped.
"The anonymous accuser who sued my client for transmitting genital herpes has permanently dropped what we proved was a fabricated lawsuit," he said.