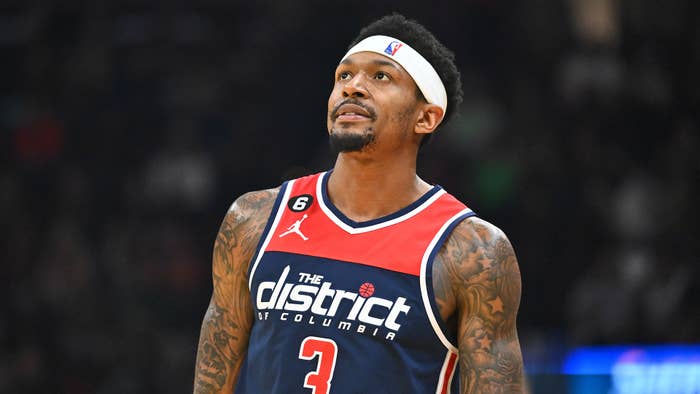 Bradley Beal of the Washington Wizards is under police investigation after he reportedly got into a confrontation with several fans following a recent game, TMZ reports.
According to sources at the Orlando, Florida police department, Beal got into it with some fans after the Wizards lost to the Orlando Magic on March 21. The incident was logged on March 22, and reportedly took place as he was walking towards his team's locker room at the venue, the Amway Center.
"You fucked me [out of] $1,300, you fuck," one of the hecklers was said to have shouted at Beal, who turned around and knocked off one of the heckler's hats. He allegedly told them their comments were "disrespectful."
"I don't give a fuck about none of your bets or your parlays, bro. That ain't why I play the game," Beal allegedly said. The confrontation mostly consisted of a shouting match and is said to have lasted just less than a minute. Beal was then taken into the locker room without the incident getting physical.
The Orlando police department is investigating Beal for battery, because of the moment Beal knocked the hat off one of the fans. "Beal approached [redacted] and with his right hand, swatted his hat off his head. In doing so Beal made contact with the left side of his head, hitting him," read the police report, per the Daily Mail. "[Redacted] did not give Beal permission to touch or strike him. [Redacted] provided me a copy of the footage showing the incident."
The Wizards haven't commented on the incident, but the Magic said they are aware and are choosing to leave it to the authorities.