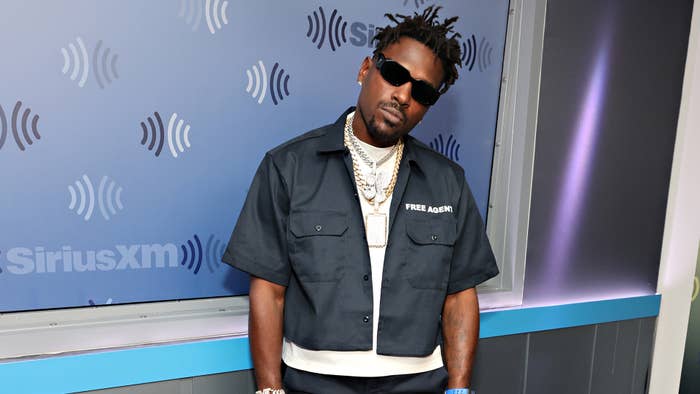 Shortly after Adam22 and his adult video creator wife Lena the Plug went viral over the fallout over a scene she shot with Jason Luv, former NFL star Antonio Brown has suggested he wants to do a scene with her, too.
"Lemme get next @adam22," tweeted Brown, 35, who announced his retirement from football earlier this year before calling off his retirement just a month later.

In response, Adam22, real name Adam Grandmaison, dismissed Brown's comment.
"What are you gonna do with it with your little ass meat," wrote the 39-year-old podcaster.
In a quote-tweet reply, Brown wrote, "It's a game of inches, you must not have checked the snap #putthatshiton."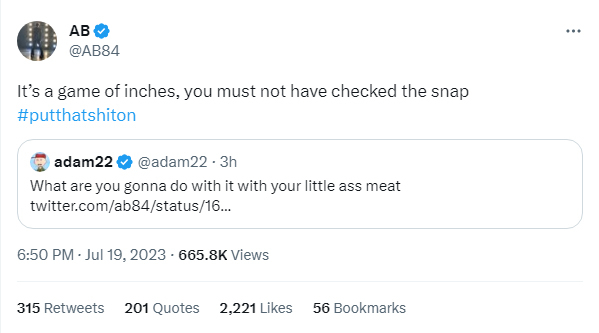 Earlier this year, Brown posted an explicit photo of Chelsie Kyriss, the mother of his children, giving him oral sex. He later claimed his account was hacked, although he's seemingly proud of the photo now, which Kyriss worryingly said he posted without her consent.
Lena, who has been with Grandmaison for the past seven years, also replied to the offer.
"Antonio, I'm a married woman 😇," the 31-year-old porn star wrote, to which he replied, "That didn't stop you last time baby."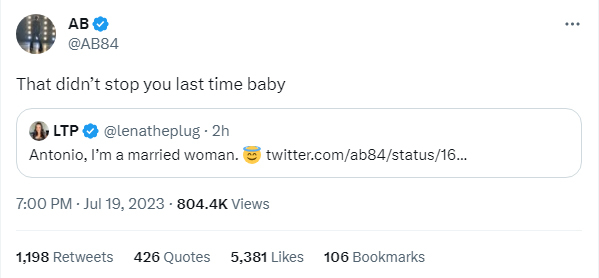 The exchange between the three comes after Lena and Grandmaison went viral after she had sex with adult video star Jason Luv. While Adam22 said the scene proved lucrative for the couple, Lena said she was left in pain "for days" as a result of the scene. Luv later stirred up the situation when he suggested he "obviously" pleased Lena better than her husband did.
"My D game, when I'm serving it, man, it's just like your mum's home cooking because there's a special ingredient – it's called love. You ever heard of it?" said Grandmaison in a video responding to Luv's comments. "You are officially blacklisted from smashing my wife again."
The recent online drama with Grandmaison and Lena the Plug has gotten a lot of attention on social media, most of it negative, but it's worth pointing out that it could be a planned distraction from the multiple controversies that Adam and his No Jumper podcast have faced this year.
Per an investigation from Media Matters for America in March, the podcast had garnered a reputation for platforming neo-Nazis and various other figures to its audience of millions. One of his co-hosts, Armand Douglas, exited the podcast after an interview with white supremacist Richard Spencer. Grandmaison has admitted to platform hateful figures.
Meanwhile, in a Rolling Stone report from June, Grandmaison was accused of coercing and pressuring women to have sex with him. "I noticed the second I didn't want to do a scene with him and Lena, he started trying to make me look horrible on his platform," said Instagram influencer Aliza Jane, who appeared on No Jumper. "So I stopped going on after that." Multiple other women who appeared on the show told Rolling Stone that they felt either pressured to engage in sex acts with Grandmaison or were belittled and insulted after they turned down his unwanted advances.
He has denied the allegations, but he was previously dropped by Atlantic Records in 2018 after he was accused of sexual and physical assault by multiple women.