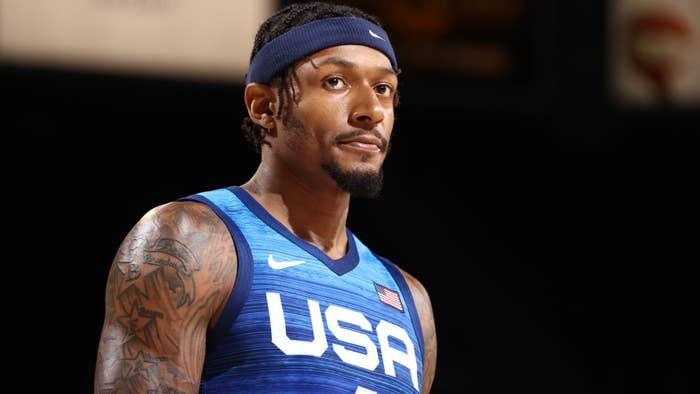 UPDATED 9/28, 1:05 p.m. ET: Bradley Beal was once again asked about his stance on the COVID vaccine. 
"I'm still considering getting the vaccine, so one thing I want to make clear is that I'm not sitting up here advocating that you shouldn't get the vaccine," he said on Tuesday, per Yahoo Sports' Ben Rohrbach.

Beal added that he hasn't received the vaccine yet because "he is still within the 60-day window of having COVID," 
"I'm not sitting here saying I won't get it," Beal added. 
See original story below. 
Bradley Beal opened up about his thoughts on COVID-19 vaccinations Monday, and Wizards fans are not happy. 
The three-time NBA all star spoke with reporters during his team's media day, where he revealed that he hasn't been vaccinated for "personal reasons."
"I don't feel pressure [to get vaccinated]," Beal said, per Wizards insider Quinton Mayo. "I don't think you can pressure anybody into doing things, or putting things in their body."
Baxter Holmes and Adrian Wojnarowski of ESPN have reported that the NBA doesn't have any plans to mandate vaccines for players, but unvaccinated players will have stricter protocols and different travel arrangements. Unvaccinated players will still be tested for COVID on a daily basis. According to the league, 85% of players were vaccinated by the end of last season, and those who are not vaccinated must wear masks at team facilities and during travel, and cannot be seated directly next to another player.
While Beal has outed himself as one of the NBA stars who's not vaccinated, Giannis Antetokounmopo revealed that he is vaccinated because he wanted to do "what's best for me and my family to stay protected."
Beal is coming from a different place, though he said he understands both sides. "I have people very close to me that are vaccinated. Parents, brothers, etc. I understand both sides," Beal added. "Some people have bad reactions to the vaccine, nobody wants to talk about that."
Beal also argued that you can still get COVID and still pass it along if vaccinated.
"I would ask the question to those who are getting vaccinated 'why are you still getting COVID?'" Beal asked.
One notable person who doesn't agree with Beal is NBA legend Kareem Abdul-Jabbar, who told Rolling Stone's Matt Sullivan that the NBA should force players to be vaccinated and remove them from their team if they refuse. 
"The NBA should insist that all players and staff are vaccinated or remove them from the team," he said. "There is no room for players who are willing to risk the health and lives of their teammates, the staff and the fans simply because they are unable to grasp the seriousness of the situation or do the necessary research."
And while players like Beal's teammate Kyle Kuzma continue to argue that someone's vaccination status "should be personal," that didn't stop people from criticizing Beal and his stance.
Check out reactions to Beal's comments about the COVID vaccine below.