 The divide in the Thunder locker room is about 8 feet wide, barely enough space to execute a proper pick-and-roll.
It's not an accident. 
This place, which houses the OKC Thunder and has been home to many a conflict—some between players and some (not so famously) between players and media—gives all non-residents a clear view of who's in charge, who's not, and exactly how this Oklahoma City basketball caste system operates.
Part battleground and part sanctuary. Superstars together over here, everyone else to the side.
Kevin Durant and Russell Westbrook are the focal points, not just of the NBA, or the Thunder, or even the city that they play in, but in here, too, with nothing to separate them except for one empty locker.
And all by design. Everything is intentional with the Thunder, so this setup while lacking an organic feel and void of ergonomic ease, shows itself as a unified, consolidate front.
The Thunder have two superstars. They are going to sit together, they're best friends, and this is going to work. No matter what you might think. Even if there's no real, recent history of two megastars working seamlessly, the Thunder, Westbrook, Durant, whoever you ask, will tell you conventional wisdom isn't the barometer here. Just look around. Listen. 
Despite the fact Durant and Westbrook's best moments have come as vicious solo assaults where each led the team to staggering success, and despite every other team having an established chain of command, the Thunder's situation is different.  At one point, this was Durant's team. Then when Durant missed a good portion of last season to injury, it became Westbrook's. Now it's neither. Instead it's both. 
This season could be Durant's final one in Oklahoma City, and as Westbrook's teammate, so the locker room gives us just a glimpse of what the Thunder want you to know about the relationship between the two stars. They're together. Equal. It might not have ever worked anywhere else, but it's going to work here.
It's not a last stand for the two or for the Thunder, but it might be a last chance.
Back in 2013 when Kendrick Perkins was not just the elder statesman of the Thunder locker room, but the self-proclaimed voice of reason, he bristled and bowed up when Joakim Noah wanted to come into the Thunder locker room to say hi to former teammate Thabo Sefolosha. Perkins told Noah to "Get your ass up outta here." Right or wrong, Perkins was making the point that this room was for teammates, and only when mandated by NBA rules, media. No other Thunder player spoke on the issue.
The locker room was Perk's. He had won an NBA championship with the Boston Celtics and that was enough to make him the de-facto man in charge. Perkins' attitude was perfect for the Thunder which lacked an on-court enforcer as well as an off-court motivator. He wasn't a flashy dresser like Westbrook and didn't have the skills of either Durant or Westbrook, but Perkins was East Texas tough and he spoke with a slow, syrupy drawl. He dressed on the other side of the room, too, opposite Westbrook and Durant, in what seemed to be a calculated spot, his presence marinating over the shallow end of the room. The hope was that Perkins' attitude would seep into the being of younger players Jeremy Lamb, Perry Jones, and Andre Roberson, the players closest in proximity to Perk. Now that responsibility lies with Westbrook and Durant.
When Dion Waiters was traded to the Thunder he was assigned a spot next to Perry Jones, Roberson, and Lamb. Within weeks, Waiters was moved to the other side of the room and now has Westbrook on one side and veteran Anthony Morrow on the other.
Before James Harden was traded from the Thunder to the Rockets, Harden shared space with Durant and Westbrook. The three together on one side and everyone else spread out around the room.
Perkins is gone now. His spot is now used by Kyle Singler. Harden is gone, too, but the space he used between Westbrook and Durant is still empty, unclaimed. There's even a chair in front of the locker making it look like the kid who goes off to college and leaves his room still in place with bed still made. You get the feeling if the doors to the locker flung open all of Harden's stuff would be there, just like he never left.
But Harden did leave, or he was shipped off. Doesn't really matter. The fact is, Durant and Westbrook are in charge. Together.
"Russell is one of those guys who will come into your house and take all your stuff, but turn all your lights on and let you know he's taking it."
—Kevin Durant
Two seasons ago, Westbrook confronted an Oklahoman reporter about sitting in an empty chair in the Thunder locker room. Last season, Westbrook went head-to-head with Oklahoman columnist Berry Tramel, an incident that has since been well-documented. He's had numerous give-and-take sessions with the media that make Marshawn Lynch appear to be loquacious. And even Durant has suggested reporters don't know anything about what's going on. 
"Guys know, it's Kevin and Russell," Roberson said of the obvious locker room balance of power. "It's a tight-knit family. Everyone has their leaders and everyone has their role players. You got the jokers and you got the quiet guys. I wouldn't say ours is different from anyone else's. Everyone has their own personalities." The personality of this Thunder team is clear, though.
Nick Collison is a lifer. He's been with the organization when it was in Seattle and has never played for another team. Serge Ibaka is one of the top defensive players in the league and is known internationally. 
"I've been in situations where guys were all equal, and situations where one or two guys led," new coach Billy Donovan said. "For our team, it's Kevin and Russell." Durant and Westbrook, Russ and Kevin. The two led the team—along with Harden, then a sixth-man—to the NBA Finals during the 2011-2012 season, and they'll head into the 2015-16 season, which starts in Oklahoma City against San Antonio, linked even more closely.
"What people don't know is that they are brothers," said Charlie Bell, Durant's best friend since childhood. Bell now manages Durant and spends a lot of time with Westbrook, too. "They love each other. They are very similar. They go to war with each other every night, every game."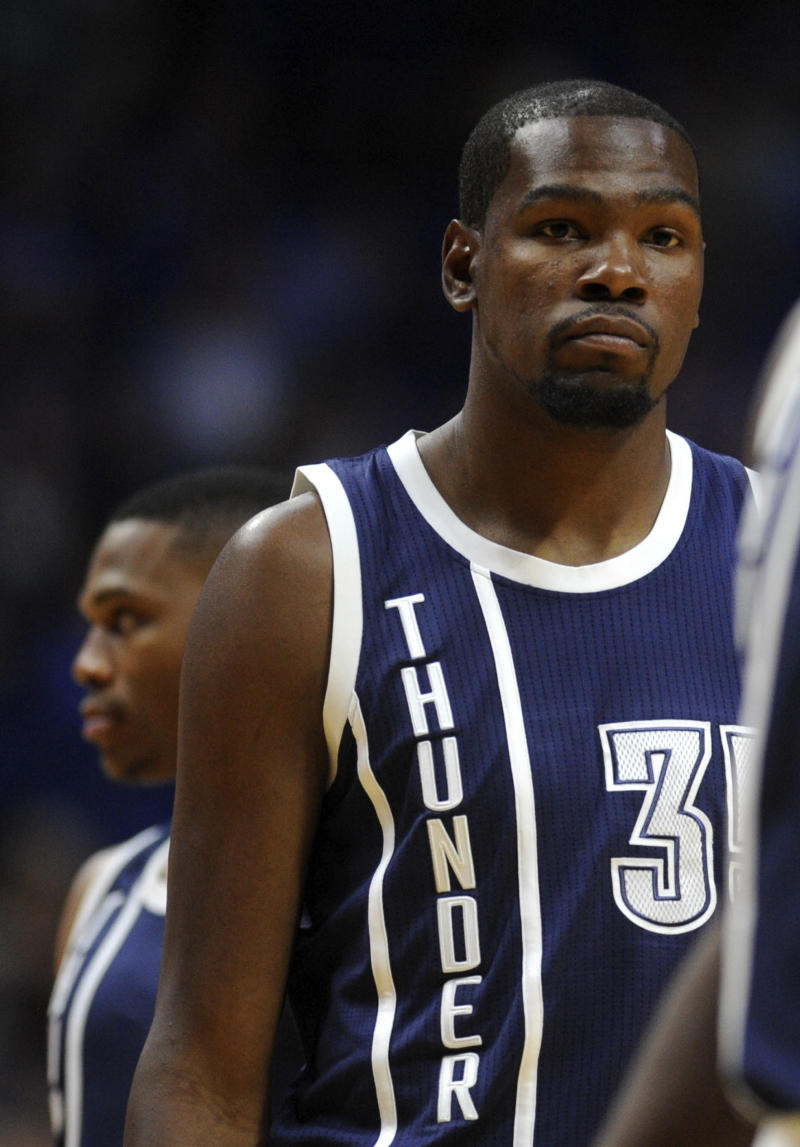 Both are healthy. Both are on the upswing of their careers. Both are part of a team expected to challenge for the NBA title. And both are all-in together. There is no divide, real or imagined between the two, both co-existing evenly. 
"It's frustrating sometimes," Durant said of a perceived battle of egos between he and Westbrook. "It comes out of nowhere. Not to say all you [media] guys, but guys in your position want that to happen and players in the league want that to happen. I feel as though people pick and choose things they want to see and kind of harp on those things instead of the great times that we've had. But that's part of it. Who cares? Just know that we get the same things done but we're different personalities. And that's OK."
"That's a part of the media world," Westbrook said. "That's normal. When they see something good they want to pull it apart. When they see two good guys getting along they try to find ways to see who's better and see if either can play without the other and see if the team can play without the other. To me, it's all BS."
Not since Kobe Bryant and Shaquille O'Neal with the Lakers have their been two players, approaching the pinnacle of their careers, sharing a platform as elevated as the one Durant and Westbrook are on now. Bryant and O'Neal won titles together, but the relationship always appeared strained. It eventually splintered and divorced. LeBron James joined Dwyane Wade and Chris Bosh in Miami, but James was the focal point. Even Wade and O'Neal worked together in Miami for a title, but in that case, Wade was the rising star and Shaq was a complementary, albeit successful piece. In San Antonio, there has been no "Game of Thrones" power grab, but then again, the Spurs with their three Hall of Famers have never had two of the current top-five players in the world.
"Kevin and Russell have achieved a level of success that is unmatched by the age of 27 except for a couple iconic players," OKC general manager Sam Presti said. "I don't think that level can be achieved unless there's a general respect between the two as individuals. It very well may be the case that Durant and Westbrook are worry, problem, and issue free, establishing a workplace environment that's efficient and effective. If that's the case, it's rare. It's rare in business, too. In today's league, superstars are courting other superstars all the time, but even as alliances are formed, there's always been a clear leader. In Oklahoma City, there are two. And it seems to be working.
Westbrook and Durant are heading into an eighth year together. Nothing lasts eight years except for your grandparents's marriage. It's longer than your favorite TV show was on and way more successful, too. Yes, Durant's run to the MVP two seasons ago happened when he had to carry the team when Westbrook was injured. Durant went on a heater of a streak, scoring 30 or more in 12-consecutive games and 25 or more in 41 games in a row. 
And many will point to Westbrook's rapid ascension in the league coming when Durant was hurt. Westbrook went four games in a row achieving a triple-double, despite dealing with a fractured cheek bone. And without Durant, Westbrook went on to win the scoring title last year, too.
"We're not similar, but we're like brothers. My attitude is different than his attitude, but we're closer than ever."
—Kevin Durant
The Thunder haven't won an NBA title, but the two have reached three Western Conference Finals, played in a Final, and have put the Thunder among the best teams in the league for most of the last six seasons. 
This isn't just two or three years as roommates. It's the shared glory of building an organization. It's the shared experience of dealing with season-ending injuries. If this relationship the two have is all L'Oreal and concealer, it's effective. But that even seems irrational. Even make-up peels and washes away. If there was a blemish, something ugly, or more, we'd probably have seen it by now.
"I think strong personalities don't work sometimes in business or in the NBA, but we've seen where it's gone in the NBA in the ability to have top players together," said teammate Steve Novak, who once shared a locker room with a different kind of leader, Carmelo Anthony. "Guys want to win; they realize they need their teammates. If you can find that mix between two or three guys that's what teams strive for."
"[media members] try to find ways to see who's better and see if either can play without the other...to me, it's all bs."
—Russell Westbrook
What's abnormal in this league, well, anywhere, really, is common with the Thunder. Two giants sharing everything from the highest of accolades, team honors, and more. Do co-workers really act this way? Have you worked with someone for seven years, get along, and tell everyone who will listen how you're best friends?
"How do you say it?, " Durant said with a smile. "Different animal, same beast. Russell is one of those guys who will come into your house and take all your stuff, but turn all your lights on and let you know he's taking it. I'm one of those guys that will come in while you sleep and take all your stuff and just leave. We get the same things accomplished but in different ways."
As another NBA season launches, it begins with a small gap between Westbrook and Durant in the locker room. Plenty of space for two. And enough room for inevitable worry to creep in, too. Maybe this is the last season the two are this close. Maybe this is it.
"We're not similar, but we're like brothers," Durant said. "My attitude is different than his attitude, but we're closer than ever. We know how to relate to each other and we have one goal in mind that's to win a championship."
Andrew Gilman has spent the past three seasons covering the Thunder for various publications. Follow him on Twitter: @andrewgilmanOK.